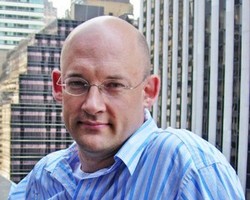 San Jose, CA (PRWEB) April 30, 2009
Clay Shirky, author of "Here Comes Everybody," will be a keynote speaker at Search Engine Strategies (SES) San Jose. The event, which will be held August 11-14, 2009, is expected to attract approximately 6,000 marketing executives, managers, professionals, specialists and consultants this year.
Now in its 11th year, SES San Jose 2009 is organized and programmed by the SES Advisory Board and Search Engine Watch, the leading authority on Search Engine Marketing. The event, which is the largest search engine marketing conference and expo on the West Coast, will be packed with more than 70 sessions, multiple keynotes and Orion panels, over 150 exhibitors, networking events, parties and more.
Matt McGowan, Vice President and Publisher for Incisive Media's Interactive Marketing Group, including Search Engine Strategies, Search Engine Watch and the ClickZ Network, said, "More than 60 percent of the content at SES San Jose 2009 will be focused on topics that search engine marketing (SEM), pay per click (PPC) advertising, and search engine optimization (SEO) professionals, specialists and consultants need to know. That's what makes SES San Jose a must-attend event year after year."
McGowan added, "As more and more businesses move ever greater amounts of their traditional marketing budgets into search engine marketing, we've also seen growing interest from marketing executives and managers in sessions that tackle a broader set of business issues. That's why we're delighted to have Clay Shirky as a keynote speaker at our conference in San Jose, which is home to the largest concentration of successful internet and high-tech companies in the world."
About Clay Shirky
Shirky is a writer, educator, and consultant on the social and economic effects of Internet technologies. He is an adjunct professor at New York University (NYU) in their graduate Interactive Telecommunications Program, where he teaches courses on the interrelationships of social and technological networks, particularly how they shape culture and vice-versa. He consults to a variety of organizations on network technologies, and is an acknowledged expert on collaboration tools, social networks, peer-to-peer sharing, collaborative filtering, and Open Source development.
Shirky has spoken and written extensively on the Internet since 1996, with regular columns in Business 2.0, FEED, OpenP2P.com and his own shirky.com blogsite. He has appeared in The New York Times, Time, The Wall Street Journal, the Harvard Business Review, and others. In his new book, "Here Comes Everybody", he explores how organizations and industries are being upended by open networks, collaboration, and user appropriation of content production and dissemination.
For more information about the largest search engine marketing conference and expo on the West Coast, go to the SES San Jose 2009 website. Register through May 8 to save up to $600 with the early bird rate.
About SES
Incisive Media's Search Engine Strategies is a leading global conference and training series focused on search engine optimization and search engine marketing. Other Incisive resources for interactive marketers include Search Engine Watch, which provides news and information about search, analysis of the search engine industry, and tools for improving search marketing effectiveness; and ClickZ, which provides digital marketing news, information, commentary, advice, opinion and research.
Incisive Media is a leading global provider of specialized business news and information, in print, in person and online. The company's principal markets include financial services, legal services, commercial real estate, marketing services and risk management. Incisive Media's market-leading brands include Accountancy Age, Computing, Investment Week, Legal Week, LegalTech, Post, Real Estate Forum, Risk, Search Engine Strategies and The American Lawyer.
###