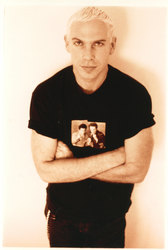 A good film has the potential to be immortal...when humans are extinct, like the dinosaurs before us, a new dominant species will come across some relics of movies and say, 'Man, those humans were something else...What other species has been so self-reflective? They made movies about life and death…but, man, they sure were obsessed with porn.'
Los Angeles, CA (PRWEB) April 30, 2009
Oliver Stone called director Ash Baron-Cohen "a young British filmmaker who has undoubtedly flourished to become one of the most gifted directors of his generation." Some people know him as the brother of Simon Baron-Cohen, professor of Autism at Cambridge University, and first cousin of Sacha Baron-Cohen ("Borat", "Bruno"). But most people know him as a provocative, on-the-verge, award-winning director who has two prestigious Hollywood projects underway this summer.
Baron-Cohen is currently casting a soon-to-be-announced, academy-award-winning A-lister to star in "RadioActive", a contemporary gangster love story set in Los Angeles against a backdrop of multicultural Americana. The 15-million dollar project is scheduled to go into production in July.
Baron-Cohen took some inspiration from classic gangster films when he wrote "RadioActive", but sought a fresh perspective from a female point of view. He plays the dual concepts of the violence of love and the love of violence against each other throughout the script.
"Violence is almost a food or a fuel for this modern day American culture and I'm keen to explore that in my next film," Baron-Cohen explains. "As a culture there seems to be an unfulfilled craving and love for violence. You only have to witness the demand for ultimate fighting or the obsession with the youth for violent movies to realize it triggers a primal response in the viewer. War is a constant in America's, and indeed man's, history. But on the flip side, love is a precious commodity like water - we all need it- some like the pure stuff, others crave the dirty stuff and others are prepared to be violent to acquire or protect it. Ultimately, love is the creative energy of life and there needs to be more love dealers and reservoirs around."
In addition to "RadioActive", Baron-Cohen is attached to direct "Novella", a stylistic, "Basic Instinct"-like romantic thriller about a murder at a literary college. Grammy-winner Lenny Kravitz, in his first lead film role, is playing a literary professor. The movie is being produced by the Yari Film Group who made movies such as "Crash" and "The Illusionist".
"I chose Lenny because I believe he has the potential of Frank Sinatra and Elvis in his early years...Lenny's been an actor or performer all his life," Baron-Cohen says. "He has natural talent and charisma and a disarming vulnerability which I believe people will respond to."
In addition to his Hollywood projects, Baron-Cohen is also working on "Little Warriors: Big Fists", the sequel to "Little Warriors", his award-winning and critically-acclaimed documentary about a group of 11-year-old children who are born with HIV/AIDS in America. "Little Warriors" aired worldwide on The Discovery Channel, MTV Europe and other key outlets in Israel, Europe, Latin America and Asia.
In "Little Warriors: Big Fists", it's now six years later. The children are 17. And some of them are having sex with HIV-negative partners.
"Little Warriors" delves into an edgy subject, but Baron-Cohen is no stranger to controversy. In film school, he defied the odds and, during a chance meeting, convinced legendary actor Richard Harris to fake an illness and skip a day of shooting on Clint Eastwood's "Unforgiven" in order to appear on-camera in Baron-Cohen's manifesto film that defended a slang word for female genitalia. Baron-Cohen would later be expelled from said film school for shooting a documentary about a dominatrix on 16mm instead of Super 8.
However, the provocative director would later go on to win critical praise and awards for his films "This Girl's Life" (James Woods, Rosario Dawson), "Pups" (Best Picture at the France International Film Festival with jury members Oliver Stone and Brian DiPalma, Grand Jury Prize at the Japan International Film Festival), "Bang" (Top-ten movies of the year from Roger Ebert, Los Angeles Times and The New York Press) and "Little Warriors" (Outstanding Biographical Program at the US TV Guide Awards).
"People go crazy for films, but it's not like they're life or death. They're much more important than that," Baron-Cohen said. "A good film has the potential to be immortal...when humans are extinct, like the dinosaurs before us, a new dominant species will come across some relics of movies and say, 'Man, those humans were something else...What other species has been so self-reflective? They made movies about life and death…but, man, they sure were obsessed with porn.' "
# # #