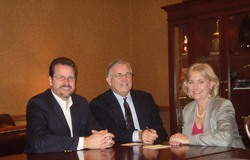 Sustainability is not a mythic ideal
Del Mar, CA (Vocus) April 30, 2009
Inquiry International (http://www.InquiryInternational.com ), a global entrepreneurial management company, is redefining the term sustainability and announced the formation of a new consulting group to forward the concept. Entitled The Sustainable Organization or TSO, the group will employ a tailored methodology that features a deep level of inquiry to CEOs and top managers about their business viability. The Sustainable Organization directors, Dan Noble and Barbara Burton, will employ Inquiry International's part-coaching, part-training methodology to assist entrepreneurs of all size companies to be sustainable in today's economy and move from survival to long-term success. The practice blends the idealism of sustainability with the fundamentals of solid business performance.
"Sustainability is not a mythic ideal," said Stewart Borie, CEO of the parent organization, Inquiry International, an MBA Wharton graduate and high level entrepreneurial advisor for the past 20 years. "It is a natural outcome of solid business principles including due diligence, radical inquiry, critical thinking, good governance, solid community partnerships, collaboration, environmental awareness and innovation. Our methods go beyond traditionally designed methods. We inquire and inquire again--deeper and deeper--with methods that uncover both internally held beliefs that don't work and possible visions that will. Our work begins when leaders and organizations learn to think in new ways about the possibilities."
Borie explains that The Sustainable Organization's course is like a martial art of survival that also focuses on innovation and growth. "It's not rocket science but requires a deep level of attunement and understanding that is critical to business success. At the end of the process, clients tell us they realize new levels of entrepreneurship in themselves and a new depth of awareness about sustainable business practices."
Inquiry International's trademark has been its Radical Inquiry™ methodology that it has used with clients worldwide for years. Borie says the approach now enjoys a solid standing in the market and will therefore be an essential part of TSO's consulting practice. TSO will focus its inquiry on the highly complex and divergent arena of sustainability, where strategic value alignment is critical. The method is also used by the parent Company to assist clients in the areas of due diligence, strategic planning, business planning, turnarounds and organizational design.
Managing Directors Dan Noble, with expertise in market research, strategic planning and market development and Barbara Burton, an expert in communications, branding and sustainability reporting will forward The Sustainable Organization course and provide entrepreneurs with a disciplined inquiry into their business and a clear understanding of their path to business excellence and sustainability. Noble, founder of The Environmental Business Journal, has advised clients throughout the world on their ability to grow and profit from integrating sustainable economics, triple bottom line and social investment strategies. Burton is a published author on sustainability issues and expert in multiple stakeholder engagement and sustainability reporting standards and methods, critical to branding a sustainable company.
"In essence, our view of sustainability is our view of business excellence, said Borie. "Utilizing Radical Inquiry, we address the beliefs behind the currently held concepts of sustainability such as greening, ecosystem balance, environmental management, and conscious community. Our task is to uncover how the term sustainability is applied versus how it is spoken. Inquiry International's expertise addresses companies' focus on the human, environmental or resource issues, and their financial issues--or their focus on people, planet and profit. Our inquiry focus, coupled with Dan's expertise in resource management (the environmental aspects) and marketing and Barbara's skill set in sustainable communications and communities (the social aspects) is a no-nonsense, result-driven approach we believe is critical for all companies competing in the new world economy. But the process is not for the faint-hearted and we require courageous self-introspection from the clients we work with.
Inquiry International is a global international management organization headquartered in Encinitas, California. Founded by Stewart Borie, Inquiry International has a team of directors representing comprehensive expertise in specific areas of entrepreneurial management. As well as consulting services, such as The Sustainable Organization™, the Company focuses on education, coaching, and information services for entrepreneurs and their organization, ranging form emerging growth to Fortune 500-size companies. Inquiry International holds proprietary doctrines, with practice modules and white papers in the areas of: Integrity Based Leadership™, The Discipline of Inquiry™, Transformative Practices™, Back Pocket Strategies™ and Alternative Capital Formation™. In addition, Borie developed "The Inquiry Universe™," a self-directed learning environment of multimedia domains that applies The Discipline of Inquiry™ for personal or organizational applications. Inquiry International's innovative methods have helped hundreds of companies worldwide solve their fundamental business needs for business and strategic planning, business process, sustainability, social investment, finance and marketing, environmental management, and many others. For further information, visit the Web site at: http://www.InquiryInternational.com.
# # #