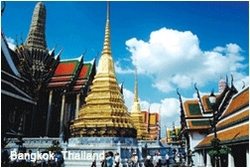 Alhambra, CA (PRWEB) April 30, 2009
Comfort and luxury are extras no traveller would mind having included in vacation packages and all-inclusive deals. From simple additional items such as pillows, photo frames, scarves and other bonus bits and pieces, travellers are sure to enjoy these tiny gifts of appreciation.
This month, China tour travel specialist RitzTours.Com is adding a few extras for travellers who choose Ritz Tours to share unforgettable travel experiences with. For most of its 2009 tour packages, travellers will enjoy additional bonus items for a mere price valued between $100-$300, all depending on the package availed.
Enjoy goodies such as silk tie/scarves, wood carved elephants, welcome orchid lei with picture, jade seal with traveller's name, and a picture with a Terra Cotta soldier upon visiting the cities of Beijing, Xian, Bangkok and Lijiang. Furthermore, take pleasure in Kung Fu shows accompanied with roundtrip transfers, visits to the World Financial Center Observatory, Spa Rosa, and even Heritage tours and Chao Phraya River Dinner Cruise.
To avail of the additional luxuries provided by China tour travel expert, purchase any of the Premiere, China & Yangtze River and Asia Series travel itineraries. The Shangri-La Adventure package for 16 days gives travellers a tour of Guilin, Yangshou, Kunming, Lijiang, Shangri-La and Hong Kong, with prices starting as low as $2,969. On the other hand, enjoy majestic sights in Thailand with the Tantalizing Thailand vacation package deal and enjoy the Asian country for as long as 15 days. All these for as low as $2,055 only.
Providing unforgettable travel destinations to China tour, Thailand, Japan, Singapore, Vietnam and Cambodia, RitzTours.com only hopes to offer opportunities to appreciate local cultures and traditions. With the best in China tours, Ritz Tours will surely make it a goal that each trip be more memorable than the last.
About Ritz Tours:
Ritz Tours is an industry leader in providing the most memorable China tour and other Asia tours at the best prices. A member of highly respected and recognized travel associations, Ritz Tours is a proud member of the U.S Tour Operators Association (USTOA), Pacific Asia Travel Association (PATA), American Society of Travel Agents (ASTA) as well as the International Airlines Travel Agents Network (IATAN).
###