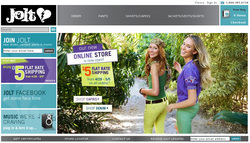 We expect this additional exposure to continue to build brand awareness and increase sales through all of our retail venues.
New York, NY (Vocus) April 30, 2009
Jolt® apparel is proud to announce the e-commerce launch of Joltstyle.com. Since its introduction only four years ago, Jolt® has established itself as a leader in eclectic fashion-forward casual sportswear for Juniors. Jolt® specializes in denim and non-denim bottoms and jackets with a uniquely feminine twist that provides a compelling combination of quality, value and great fit.
More than just a shopping site, Joltstyle.com will offer visitors a variety of ways to "connect" including an interactive music player. Jolt® fans can create playlists, download ringtones and share their favorite songs and artists. The site also links to Jolt's facebook fan page http://www.facebook.com/pages/Jolt/25308727985, which can be joined online or by texting "fan Joltstyle" to 32665. This social networking environment allows Jolt® fans to upload pictures of themselves or friends in their favorite Jolt® styles.
Joltstyle.com will offer the full breadth of the Jolt® juniors product line. For Spring, the line is splashed with bright color in shorts, bermudas and skinny capris in addition to black and rinsed denims. Highlights of Jolt's core items include "The Lounge Act", which is a knit fold-over waist that is flattering and comfortable, available in shorts, capris and pants. Jolt® features lightweight 7 oz denim throughout the assortment -- this fabrication, referred to as "Denim Lite", is a signature luxury basecloth.
Jolt's Fall 2009 line will include destructed boyfriend jeans, "Pick Me Up" denim leggings, and "High Definition Stretch", a collection of four way stretch knit bottoms. In addition to denim, Jolt® will continue to offer a variety of outerwear, which includes faux leather vests, bomber jackets, and wool peacoats and toppers.
For 2010, the Jolt® brand will continue to expand and evolve through new classification and licensing opportunities. "The launch of Joltstyle.com is part of a strategic initiative to expand Jolt® into new channels of distribution," says Caren Lettiere, division head of the Jolt® brand at Kellwood. "We expect this additional exposure to continue to build brand awareness and increase sales through all of our retail venues."
About Kellwood
Kellwood is a leading women's apparel marketer. Specializing in branded products, the Company markets to all channels of distribution with products and brands tailored to each specific channel including Baby Phat®, Phat Farm®, Vince®, Sag Harbor®, Briggs New York®, My Michelle®, and Jolt® as well as licensed brands XOXO® and David Meister®. Kellwood is an affiliated portfolio company of Sun Capital Partners, Inc., a leading private investment firm specializing in leveraged buyouts and investments in market-leading companies.
###