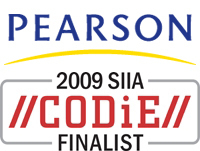 Students who use MyCompLab receive more hours of practice, experience more interaction with their instructors and have all the resources they need to become better writers.
Boston (PRWEB) April 30, 2009
Pearson's MyCompLab, the technology-based writing solution that has helped hundreds of thousands of college students to strengthen their communications and writing skills, is a finalist in the Software & Information Industry Association's 24th Annual CODiE Awards. MyCompLab earned finalist honors in the categories of Best Postsecondary Instructional Solution and Best Reading/English Instructional Solution.
Established in 1986, the CODiE Awards celebrate outstanding achievement and vision in the software, digital information and education technology industries. Through a unique combination of journalist and expert peer review, the CODiE Awards finalists were chosen from more than 850 nominations submitted by 600 companies.
"Strong communications skills such as critical thinking, writing and problem-solving are essential to professional success," said Roth Wilkofsky, President of English, Communication and Political Science at Pearson Higher Education. "Students who use MyCompLab receive more hours of practice, experience more interaction with their instructors and have all the resources they need to become better writers."
With MyCompLab, learning happens within the context of each student's own writing--encouraging critical thinking and revision while honing skills based on individual needs--which means better learning, better writing and students more equipped to succeed in both academia and areas beyond. Via a wealth of tools and resources, MyCompLab places the power to effectively teach into the hands of those who do it best--instructors--and places the power to learn into the hands of those most invested in learning, their students.
MyCompLab's features include easy assignment creation and management; feedback delivered within the context of student writing; student assessment and management tools; instruction, tutorials and exercises for writing, grammar and research; integrated peer review and collaboration tools, and many others.
Pearson, the world's leading education publishing and technology company, offers an array of interactive, digital content solutions in addition to such respected imprints as Addison Wesley and Prentice Hall. The company's award-winning MyLabs learning tools include 38 discipline-specific programs that support hundreds of college textbooks, including math, physics, chemistry, biology, economics, Spanish and reading.
Overall, seven Pearson products were named as finalists in nine categories in the 24th Annual CODiE Awards. In addition to MyCompLab, the honored products are DRA2™ Handheld - Tango™ Software Edition, Perspective™, Pearson eCollege, NovaNET®, PowerSchool® Premier 5.2 and PowerTeacher. With these K-12 and higher education curriculum, classroom management and assessment products, Pearson tops the education industry categories with more finalists than any other company.
In the next step of the CODiE Awards process, SIIA members vote to determine the winners in each category. The 2009 CODiE Awards will be presented at a gala event on May 5 at the Palace Hotel in San Francisco.
About SIIA
The Software & Information Industry Association (SIIA) is the principal trade association for the software and digital content industries. SIIA provides global services in government relations, business development, corporate education and intellectual property protection to more than 500 leading software and information companies. For further information, visit http://www.siia.net.
About Pearson -- Pearson (NYSE:PSO), the global leader in education and education technology, reaches and engages today's digital natives with effective and personalized learning, as well as dedicated professional development for their teachers. This commitment is demonstrated in the company's investment in innovative print and digital education materials for preK through college, student information systems and learning management systems, teacher professional development, career certification programs, and testing and assessment products that set the standard for the industry. The company's respected brands include eCollege, Prentice Hall, Addison Wesley, Benjamin Cummings, MyLabs, and many others. Pearson's comprehensive offerings help inform targeted instruction and intervention so that success is within reach of every student at every level of education. Pearson's commitment to education for all is supported by the global philanthropic initiatives of the Pearson Foundation. Pearson's other primary businesses include the Financial Times Group and the Penguin Group. For more information, go to http://www.pearson.com.
Contact:
Susan Aspey
347-421-2473
###