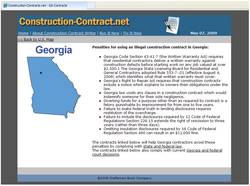 Carlsbad, CA (PRWEB) May 10, 2009
Craftsman Book Company's Construction Contract Writer is a first-in-class productivity tool used by construction professionals to meet increasingly more stringent state contracting standards. The just-released Georgia edition of the program helps contractors write construction contracts that comply with Georgia's new Written Warranty Act. A free feature-limited trial for Georgia and many other U.S. states is available at ConstructionContractWriter.com.
Georgia Code Section 43-41-7 (the Written Warranty Act) now requires that residential contractors deliver a written warranty before starting work on any job valued at over $2,500. The Georgia legislature left it to the State Licensing Board for Residential and General Contractors to decide what has to be in that warranty. The Board's regulation went into effect on August 4, 2008.
The Written Warranty Act has only six iron-clad warranty rules: (1) it must be in writing, (2) explain what's covered and what's excluded, (3) identify duration of the warranty, (4) describe claim procedures and (5) response options, and (6) assign any manufacturer warranties. What the warranty says on those six points is entirely up to the contractor. Anything can be covered or excluded from the warranty, and for any period of time. Nothing in Section 553-7-.01 ties their hands.
There's a certain symmetry to this new law. For several years, Georgia's Right to Repair Act has protected residential contractors from suit over claimed construction defects. Before filing suit, the home owner has to work through a 90-day settlement procedure. To get that protection, all contractors need to do is insert a one-paragraph notice in the construction contract. Now, obligations of the home owner under the Right to Repair Act are balanced against obligations of the contractor under the Written Warranty Act.
The Web site Construction-Contract.net has a good selection of sample contracts for residential work, each with a warranty and Right to Repair notice that comply with Georgia law. The downloads are free and available in PDF (Adobe Acrobat), RTF (MS Word or WordPad) and CCF (Construction Contract Writer) formats.
Better yet, contractors can create custom contracts that comply with state law with Craftsman's new Construction Contract Writer program. The program is currently available for the following states: Alabama, Alaska, Arizona, California, Colorado, Florida, Georgia, Illinois, Massachusetts, Nebraska, New Jersey, New York, North Carolina, Pennsylvania, Texas and Virginia. More information and a free trial are available at ConstructionContractWriter.com.
Craftsman Book Company develops software and publishes technical and professional references for contractors, estimators, remodelers, custom builders, architects, engineers, adjusters and appraisers.
###