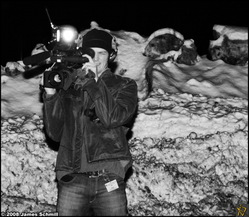 They have not allowed her to visit or discuss my case unless its being recorded on the phone where they can hear everything.
Keene, NH (PRWEB) May 1, 2009
Arm Your Mind for Liberty, a libertarian weblog, would like to bring attention to the Sam Dodson case. According to George Donnelly, blogger, video journalists in Iran aren't the only ones at risk for due process violations. That's what journalist Sam Dodson learned when he was arrested April 13 at Keene District Court for allegedly refusing to turn off a video camera in the lobby according to an April 14 Keene Sentinel article.
Dodson is being held indefinitely on $10,000 cash bail at Cheshire County Correctional Facility because he refuses to disclose his legal name to authorities per orders issued by Cheshire County District Court Judge Edward Burke on April 14 and 29 under docket number 09-CR-01825-1828.
"The first order states $10,000 cash bail and only when he reveals his name. In the latest order they have discovered his legal name, but again they say until he tells it to them, and tells them his address, he's staying in jail. In both orders they refuse to schedule any more dates, including trial, in this matter. They will not see him for arraignment, they will not see him for preliminary hearings, and they will not see him for trial until he gives them his name and address," said Dodson's attorney Sharon Walker.
"The state has not even told me what they are charging me with at this point for over two weeks which Article 15 of the New Hampshire Bill of Rights clearly says that they are not to hold anyone until the charges are substantially and formally given to them," Dodson said from a jail pay phone May 1 when he called in to WKBK-AM's The Dan Mitchell Morning show.
Private discussions with his attorney have been denied said Dodson. "They have not allowed her to visit or discuss my case unless its being recorded on the phone where they can hear everything."
"They were giving me motions where I couldn't respond to them because I didn't have pens or papers," said Dodson during an April 29th interview on talk radio show Free Talk Live.
Conditions in the jail are unsanitary said Dodson. "The toilet that has been stopped up for over 3 weeks now overflowed again and toilet paper, urine, feces starts flowing out onto the floor and it was also a hot day. "
Dodson is on a hunger strike and has lost 20 pounds. "I'm going to eat when I'm free," he said on WKBK-AM.
Cheshire County Superior Court rejected Walker's writ of habeas corpus for Dodson but she refiled the writ with the New Hampshire Supreme Court on April 29.
Grassroots support for Dodson made him the top choice of internet TV show "Freedom Watch on Fox" viewers in a recent poll, ahead of celebrities such as entertainer Penn Jillette and former New Mexico governor Gary Johnson.
More than 40 friends attended a candlelight vigil for Dodson in Keene April 19. Some have also demonstrated in front of the jail where he is being held.
Letters from Dodson while he is in jail are being published at freekeene.com.
Video of Judge Burke charging a man with contempt of court for taking 6 seconds to sit down in November 2008 was viewed more than 100,000 times on YouTube.
"It is not supposed to work to where somebody in America is thrown in a jail cell and left there to rot until they cooperate and give up their rights in order to get whatever rights the government wants to hand out," Dodson said April 29 on Free Talk Live.
About Sam Dodson
Sam Dodson was living the American Dream in his native Texas when a series of events transformed him from unhappy corporate lackey to activist, filmmaker and entrepreneur. Sam's media company, Obscured Truth Network, educates viewers about the inner workings of government. Sam's videos can be viewed at http://www.youtube.com/ObscuredTruth. Sam is also a co-host of the syndicated talk radio show Free Talk Live.
About Arm Your Mind for Liberty
Arm Your Mind for Liberty is a libertarian weblog produced by George Donnelly that engages you in a daily conversation on the voluntary society and how to achieve a better life for you - and the next generation.
###