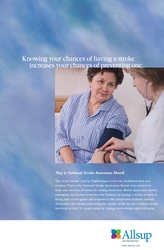 HOPE: The Stroke Recovery Guide
(Vocus) May 4, 2009
This year nearly 795,000 people will have a stroke, leaving a path of destruction that affects millions of lives in the United States, according to National Stroke Association, which is observing National Stroke Awareness Month in May. Organizations, including Allsup, a national Social Security Disability Insurance representation company, are helping to raise awareness of the impact of strokes, plus the availability of resources to help individuals and their families.
Four out of five families will be touched by stroke in 2009. Stroke is the third-leading cause of death and the largest cause of adult disability in the country. There are 6 million stroke survivors in the United States, and many have serious disabilities. Stroke survivors experience a number of losses, such as no longer being able to work, drive, shop, walk, enjoy leisure activities, dress or bathe themselves, eat or take care of themselves in other ways.
This year National Stroke Association is emphasizing:

STOP Stroke - By reducing risk factors.
Act F.A.S.T - By recognizing the symptoms of stroke and seeking treatment.
Spread Hope - By supporting those who are living and recovering from a stroke.
Up to 80 percent of strokes are preventable. National Stroke Association offers a variety of materials for understanding your risk factors for stroke. Additionally, there are several symptoms for stroke and ways to recognize when someone is having a stroke. Fast treatment is the best way to lessen the impact of a stroke. The acronym F.A.S.T. stands for: Face, Arms, Speech and Time. Find more details at http://www.stroke.org.
National Stroke Association offers a variety of online resources, including information about selecting a rehabilitation provider, to support stroke sufferers and their families. "HOPE: The Stroke Recovery Guide" is a 74-page booklet that explains how to approach living after you or a family member has experienced a stroke.
Allsup salutes National Stroke Association and other organizations across the country as they raise awareness about preventing and supporting stroke sufferers and their families.
Free posters highlighting National Stroke Awareness Month are available through Allsup to hospitals, clinics and other community groups by calling Karen Hercules-Doerr at (800) 854-1418, ext. 5770.
Contact:
Taryn Fort
(303) 754-0919
http://www.stroke.org
Karen Hercules-Doerr
(800) 854-1418, ext. 5770
http://www.allsupcares.com
###