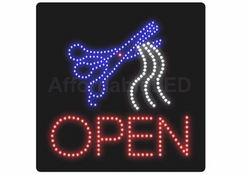 Rowland Heights, CA (PRWEB) May 3, 2009
Because led signs are the best way to call attention to patrons and customers, it is important to invest smartly in led signs to give businesses a boost in their sales. Not only are led signs more efficient, they also save more energy and even provide animation that will surely amuse and entertain passers-by.
Offering the only the best when it comes to wholesale LED signs, AffordableLed.Com boasts of a large selection of budget friendly led signs that does not compromise quality. Led signs are cost efficient and visually appealing, making customers glance and notice businesses that put up colourful and bright led signs. Both for indoor and outdoor use, led signs are a better means of advertising over other forms of traditional advertising.
This month, mix and match led signs designs to save a lot on affordable led signs. For a minimum of 20 pieces of mixed and matched orders of led signs, AffordableLed.Com offers free shipping except for open led signs. Save as much as 25%-60% off on discounted led signs that are sure to give a boost in any business's profit. Led signs as low as $40.00 on a minimum of a 5-piece order are available for purchase and are just waiting for its rightful owner.
Other led signs the leading led signs wholesaler offer are sushi signs, Chinese food signs, ice cream signs and coffee signs. Increase foot traffic as much as 10% with the right kind of led signs displayed on any establishment. Take advantage of this wonderful offer and witness the growth of the business through the help of AffordableLed.Com's budget friendly, animated and cost efficient led signs.
About AffordableLED.com
Based in Southern California, AffordableLED.com is the leading manufacturer of indoor and outdoor LED signs. All LED signs are of high quality, produced with cutting edge technology. LED signs can be customized to suit the needs of the clients. All LED signs sold have a 1 year warranty and a lower-than-market price guarantee.
###