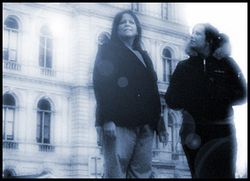 I stumbled onto the vicious little secret of the American workplace the hard way
New York (PRWEB) May 4, 2009
This year New York and Connecticut joined nearly 25% of the nation's state capitols in the growing struggle to protect American employees from severe psychological harassment. Why wouldn't they? That question forms the heartfelt arc of a new cutting edge interactive media campaign by award-winning documentary filmmaker Beverly Peterson, THERE OUGHTA BE A LAW: nojobisworththis.com (http://nojobisworththis.com).
"I stumbled onto the vicious little secret of the American workplace the hard way," says Peterson. "In little more than two years, my boss bullied her way through 6 or more employees in the same position before me. The better I was at my job, the better she got at being a bully and the more outrageous her behavior became." When Peterson learned about her own state's struggle to pass a law to prevent victims like herself from experiencing severe emotional trauma -- she picked up her camera and traveled to Albany to capture the hopeful journey of victims, legislators and activists as they fought back against toxic bosses.
All too often the victim is blamed for not being 'tough enough' for today's highly competitive and shrinking job market. The New York Times recently reported that the emotional toll of an abusive boss is more severe than sexual harassment. 54 million Americans have already been victimized. 77% found the only option was to quit (zogby). "When this becomes something that is more widely understood and comes out of the shadows and is talked about, I believe that we'll see passage of this law." -- NY Assemblyman Steven Englebright, Sponsor A5414, a bill to stop abusive work environment
"When I first started making this documentary," Peterson explains, "experts, politicians and advocates kept warning me how hard it would be to make audiences understand that it's not about bad bosses, long hours or even lousy managers who curse or scream to make a point. This is about those rogue bosses who have slithered their way up through the cracks in the corporate ladder. The ones determined to target one employee after another and emotionally destroy them. In the schoolyard we learned to stand up to a bully. But in the workplace, the bully isn't looking for the weakest. They're looking for the strongest and the same approach might cost you your job, benefits, savings, and your health."
NY Assemblyman Mark Schroeder has reintroduced a study bill on this issue. "Everybody knows the difference between right and wrong," explains Schroeder. "Everybody knows how to be respectful. If people cannot go to work because they're sick to their stomach everyday and because they're being taken advantage of or they're being yelled at,these things are wrong and simply we're asking the Department of Labor, in a comprehensive way, to help us."
The world premiere of EPISODE 1: TRACEY & KALI'S LAW features the heartbreaking story of New York resident Tracey and her teenage daughter Kali. Like so many women who are victims of this type of abuse, Tracey was a single mother barely two years shy of retirement when her life turned upside down. During Tracey's long career as an office manager she adjusted to several changes in supervisors. But, when her last boss took the helm, Tracey says the "new management style" included isolation and psychological intimidation. Both her doctor and therapist advised her to save her health and quit her job. Suffering from severe depression and unable to find work, Tracey lost her home, benefits and savings. Even after several moves from state to state, Tracey is still hoping for a permanent job.
While Tracey is away from home her daughter, Kali, travels to Albany to join the grass roots struggle of the New York Healthy Workplace Advocates to enact anti-harassment legislation in New York. Viewers watch Kali meet State Senator Ruth Hassell-Thompson who links Tracey's struggle to Domestic Violence. "Violence is not just physical," says Hassell-Thompson. "It's emotional when it causes that level of trauma."
EPISODE 2: MARLENE'S LAW highlights Connecticut's struggle. Katherine Hermes is on a mission. Her best friend committed suicide after reportedly suffering psychological intimidation on the job. Hermes asks State Senator Edith Prague to propose legislation to stop bullying in the workplace. The response? "Let's do this!" What begins for viewers in a Connecticut Senate Office soon takes on national importance. Scenes include an evening of jazz, wine & truffles, as powerful state business lobbyists, Connecticut Business & Industry Association and the MetroHartford Alliance, voice opposition while reaching out to legislators. The head of the Metro Hartford Alliance readily reveals he is equally skeptical of Sexual Harassment laws currently in place. Fliers on nearby tables advise corporate members to tell their legislators to vote against pending Workers Comp and retirement bills. "They're running around saying to legislators, you can't possibly pass that bullying bill it's going to scare businesses out of the state," says Connecticut State Senator Prague, "I would be proud if we were the first state to do that."
The arguments by Senators Hassell-Thompson and Prague remind us that the need to define unacceptable levels of bullying behavior by a boss is no different than the historic ability to legally define domestic violence, sexual harassment and racial discrimination were so many years ago.
(States considering this bill in 2009 are: New York, Connecticut, New Jersey, Massachusetts, Illinois, Vermont, Oklahoma, Utah, Oregon, Nevada, Montana, Washington)
Beverly Peterson, the filmmaker:
Peterson's documentaries have been broadcast internationally, and screened at major festivals including; HBO, PBS The Sundance Channel, The Sundance Film Festival, Human Rights Watch, Museum of Modern Art, Brooklyn Museum of Art, The Walker Art Center, The Warhol Museum, The Kitchen. Her documentary 71 West Broadway: Ground Zero, New York, NY was selected as part of the memorial presentation at the Library of Congress, which has included it in the national 9/11 film archive. Portions of Invisible Revolution, were featured on ABC's 20/20, Dateline, and HBO specials on domestic terrorism.
Contact:
Beverly Peterson
347-229-6815
http://nojobisworththis.com
###