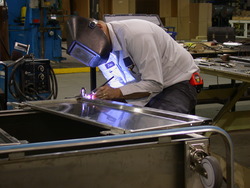 We can restore any cart in a facility to a like-new condition
Jackson, MI (Vocus) May 6, 2009
Midbrook Inc., a Jackson, MI based manufacturer of medical decontamination equipment, medical carts, and Corian® Scrub Sinks, has announced the creation of a new Hospital Cart Refurbishment Program.
Midbrook will bring used carts, in any condition, in from medical facilities and restore them to like-new condition in their Jackson, MI facility.
"We can restore any cart in a facility to a like-new condition," said Midbrook Business Development Director Jamie Crowley. "We know that everyone is looking for ways to save money in this economy, and we thought that cart refurbishment could help some facilities who do not have the budget for a new case cart or utility cart."
Midbrook can restore damaged or heavily used carts and deliver them back to a facility in one week. Carts sent to Midbrook can be repaired in a variety of ways. The casters, hinges, or other components can be repaired or replaced depending on need. Dents and other structural damage to the carts can be repaired. If it is not feasible for a facility to send the cart to Midbrook, skilled metal fabricators from Midbrook will travel to the facility for on-site repairs.
"By the time we finish with the cart, the customer will have a like-new product for less than the cost of a new cart," said Crowley.
Midbrook can also improve carts still in working condition. Corian®, a non-porous solid surface that resists microbial growth and facilitates a cleaner work environment, can be added to the tops of carts if desired. Corian® is quickly growing in popularity in the medical environment.
"We decided to offer Corian® as an option for the top of carts or the shelving since it is becoming a popular work surface in hospital and medical facilities," said Crowley.
"It is resistant to bacteria, easy to clean, durable, and easy to work with. Corian® is a good choice for any surface in a hospital environment that needs to stay clean and resist microbial growth, and we think adding it to medical carts is an exciting innovation."
The cart refurbishment program covers all aspects of repairing a medical cart.
"Midbrook will repair the door latches, hinges, welds, wheels, shelves, shelving support, doors, even replace the entire door including insulation," said Crowley.
"We can even take your old carts if they are beyond repair," said Crowley. "Then we will offer a discount on a new cart from Midbrook that matches the design of the old cart, or includes any changes the customer wishes to make."
"We think that this program grants a new level of flexibility to our customers and will be a popular choice going forward," said Crowley.
# # #