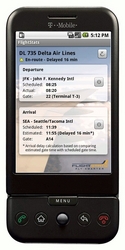 FlightStats is committed to delivering timely, accurate and complete flight and airport information to corporate and leisure travelers through whatever mechanism they prefer. The new Android phones are a great platform for delivery of current flight status information
Portland, Ore. (PRWEB) May 7, 2009
FlightStats today announced the public launch of a new air travel application for Google Android phones that provides flight status, flight tracking, airport weather and delays, and airline information. The application - FlightStats for Android, makes it easy for travelers equipped with Android-powered smartphones such as the HTC G1 from T1 Mobile and the HTC Magic from Vodaphone to track their flight status, find information on airport delays, contact airlines, and manage the complexities of business and leisure air travel.
Users can track individual flights, see flight status by route or by airport, view flight progress on a map, and save flights they need to track for quick and easy status updates. Airport information includes current weather conditions, FAA delays for US airports and FlightStats departure delay indices for global airports. Airline information includes web and mobile web site links and reservation phone numbers. Users can save favorite flights, airports and airlines for easy retrieval.
Flight status information comes from the FlightStats global flight history database - recognized as the World's best source of timely, accurate and complete flight status information. The current location of flights en route through US airspace and many parts of Europe can be viewed on a Google map. A detailed flight status screen shows the flight's status (en route, on-time, delayed, canceled, etc.), scheduled and actual departure and arrival times and gates, a flight tracker button to view the flight on a map, and links to detailed information on the departure and arrival airport conditions.
"FlightStats information has become an important part of the air travel experience and smartphones are now the preferred method of staying connected while traveling," said Jeff Kennedy, CEO of Conducive Technology Corp., the developer of the FlightStats platform. "FlightStats is committed to delivering timely, accurate and complete flight and airport information to corporate and leisure travelers through whatever mechanism they prefer. The new Android phones are a great platform for delivery of current flight status information," he added.
FlightStats for Android can be purchased now for $5.99 US in the Android Market. For more information or to purchase the application, visit: http://www.android.com/market.
About FlightStats:
FlightStats is an airline, airport, and travel information service provided by Conducive Technology Corp. FlightStats tracks nearly 150,000 flights world-wide each day and publishes current data on flights and airports via Web services APIs, RSS feeds and on the FlightStats Web site at http://www.flightstats.com/ . Visitors and developers can get flight status, view on-time performance ratings by flight or by airline, check for current airport delay and weather information, and much more. All services are free to site visitors and many services are available via APIs and as widgets for installation on other web sites or personalized home pages such as iGoogle and Microsoft Live. FlightStats is also a leading provider of flight and itinerary monitoring and messaging services for corporate and on-line travel agencies, and airlines and is the definitive source for historical airline performance data. Conducive Technology is also a leading supplier of air travel information services to logistics professionals, airlines, airports and industry analysts.
###