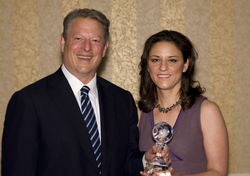 'Garbage Dreams' is a moving story of young men searching for a ways to eke out a living for their families and facing tough choices as they try to do the right thing for the planet
Nashville, TN (PRWEB) May 5, 2009
After naming "Garbage Dreams" by director Mai Iskander the winner of the 2009 REEL Current Award at the Nashville Film Festival (NaFF), Al Gore -- Nobel Peace Prize Laureate, Academy Award winner and former Vice-President of the United States -- recently presented the award to Iskander during a private meeting in Nashville.
"'Garbage Dreams' is a moving story of young men searching for a ways to eke out a living for their families and facing tough choices as they try to do the right thing for the planet," said Gore of the film. "Mai Iskander guides us into a 'garbage village,' a place so different from our own, and yet the choices they face there are so hauntingly familiar. Ultimately, 'Garbage Dreams' makes a compelling case that modernization does not always equal progress."
The REEL Current Award is chosen and presented by Gore each year to a documentary at NaFF that provides extraordinary insight into a contemporary global issue. Last year's winner was Michael O'Connell's "Mountain Top Removal."
"I am so pleased to have received the REEL Current Award from Vice President Gore," said Iskander. "Having received this award from such an esteemed environmentalist whose own film became a catalyst for meaningful change, I feel especially honored."
"Garbage Dreams" follows three teenage boys born into the trash trade and growing up in the world's largest garbage village, on the outskirts of Cairo. It is the home to 60,000 Zaballeen, Arabic for "garbage people." Far ahead of any modern "Green" initiatives, the Zaballeen survive by recycling 80 percent of the garbage they collect.
When their community is suddenly faced with the globalization of its trade, each of the teenage boys is forced to make choices that will impact his future and the survival of his community.
Iskander presented Gore with a piece of original artwork created by one of the children at the recycling school profiled in the film.
"'Garbage Dreams' portrays our desire to live with dignity and to continue to recover, recycle and protect the environment," said the Zaballen in a joint statement. "Our heartfelt thanks to the Nashville Film Festival and Vice President Al Gore for this wonderful honor, as it will help bring our story to a worldwide audience"
In addition to "Mountain Top Removal" in 2008, previous winners of the REEL Current Award include "Manufactured Landscapes" (2007), "Desire" (2006), and "The Real Dirt on Farmer John" (2005).
The 40th Nashville Film Festival ended on Thursday, April 23, 2009.
About Nashville Film Festival
The longest-running film festival in the South, NaFF also ranks among the most prestigious, continually garnering accolades and notice from a wide range of entertainment and trade publications, including the Associated Press, MovieMaker Magazine, Film Festival Today, IndieWire, Variety, Billboard, New York and Script Magazine. Between 2003 and 2007, NaFF's attendance numbers doubled, capped off with a staggering 26% increase in festival goers between 2006 and 2007. In 2008, more than 22,000 film lovers, entertainment professionals and industry insiders from all over the world made the trek to NaFF, enjoying 240 films from 44 countries, incisive industry panels, music showcases and spirited party mixers. Among the diverse group of celebrities who have attended NaFF in the past either as film presenters, award recipients or film fans are William H. Macy, Vincent D'Onofrio, Patricia Neal, Rob Thomas, Lawrence Bender, Ray McKinnon, Walton Goggins, Craig Brewer, Harmony Korine, Al Gore, Nicole Kidman, Kiefer Sutherland, Kimberly Williams-Paisley, Peter Falk, Paul Reiser, Patrick Swayze, Rick Schroder, John Waters, Matthew McConaughey, Robert Redford, Harry Belafonte, Oprah Winfrey, Michael Moore, and D.A. Pennebaker.
Nashville Film Festival is a non-profit 501(c)(3) corporation and receives funding from The Academy of Motion Picture Arts & Sciences, The H. Franklin Brooks Philanthropic Fund, William N. Rollins Fund for the Arts of The Community Foundation of Middle Tennessee, The Frist Foundation, The Memorial Foundation, Nashville Metro Arts Commission, National Endowment for the Arts, Ragsdale Family Foundation, Target Stores, Tennessee Arts Commission, and its generous. patrons and sponsors.
###