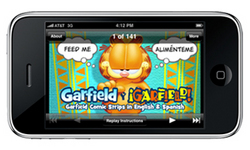 Again, as with so much of the new technology, I have to ask, 'Why wasn't this around when I was a kid?'
Kansas City, MO (PRWEB) May 5, 2009
Learning a second language can be a daunting challenge, but not when one of the world's most popular comic strip characters is involved! Uclick, the #1 distributor of comics on mobile, and Paws, Inc. have announced the release of Garfield y Garfield for the iPhone and iPod Touch. This one-of-a-kind app features the English and Spanish versions of more than 100 of the most popular Garfield daily strips. With the mere press of a button on the Multi-Touch screen, users can toggle back and forth between the English and Spanish translations of the strip, quickly learning new words and phrases.
The app is available for download from the Apple App Store for $2.99 (US).
"Again, as with so much of the new technology, I have to ask, 'Why wasn't this around when I was a kid?'" said Garfield creator Jim Davis. "This is a great tool for learning a second language or for refreshing your vocabulary. I'm sincerely very proud to have Garfield connected with this product. In the past I have heard parents say, 'Garfield helped my child take an interest in reading.' Think how proud I'd be if they said, 'Garfield helped me learn Spanish!'"
Uclick and Paws Inc. created the Garfield y Garfield app as a learning tool, offering users hundreds of simple and practical examples of applied language. The fluid toggle controls enable users to examine the translations seamlessly, providing an interactive language-learning experience with special emphasis on vocabulary, sentence structure and context.
"Garfield y Garfield is a groundbreaking application that makes studying a second language convenient, engaging and fun," said Uclick CEO Douglas Edwards. "Garfield is one of the world's most beloved comic characters, which makes him a perfect fit for an application that uses the simple, direct language of comic strips to help users learn a second language. We're extremely proud to partner with Paws to offer this wonderful application."
Uclick has created more than 120 apps for iPhone and iPod touch featuring a wide range of well-known comic strips, graphic novels, manga and webcomics, including Jeff Smith's Bone, Ghostbusters and Teenage Mutant Ninja Turtles. Uclick recently launched the Garfield Minus Garfield app, which allows users to toggle between installments of the smash-hit webcomic and the original Garfield daily strips that inspired them. Uclick has also scored big hits on the App Store with non-comics-related apps such as the Magic Eye 3D and USA Today Crosswords apps.
To get the Garfield y Garfield language-learning app and other favorite comic books, graphic novels and manga for the iPhone and iPod touch go to the Uclick Web App by typing Uclick.com into the Safari browser or visit the App Store on the iPhone or on iTunes.
Click here to go directly to the Garfield y Garfield page on iTunes.
About UCLICK:
UCLICK® is the leading digital entertainment provider of humor, comic strips, manga, graphic novels, editorial cartoons, and other content for desktop, web and mobile phones. Uclick is also the leading creator and distributor of crosswords, and other word and number puzzles. Partners featuring Uclick content include the leading consumer portals Yahoo!, MSNBC.com, New York Times, Slate.com, washingtonpost.com, CNN, USA Today, and AOL. Uclick features include the top brand franchises Garfield, Doonesbury, Calvin and Hobbes, Paul Frank, Teenage Mutant Ninja Turtles, TOKYOPOP, USA Today, Pat Sajak, Wyland, and many more. Uclick creative content and services are available through the GoComics.com website, U.S. mobile phone operators, the iTunes App Store, and other distributors worldwide. UCLICK, LLC is a division of Andrews McMeel Universal, the leading newspaper syndicate and publisher of humor books and calendars in North America.
For more information on Uclick, visit http://www.uclick.com.
About Paws, Inc.
Cartoonist Jim Davis' company, Paws, Inc., located near Albany, Indiana, was founded in 1981 to handle the creative end of the Garfield licensing business. Today, Paws is the sole owner of all copyrights and trademarks for the Garfield property, and controls not only the creative angle of the fat cat's flourishing empire, but also the licensing, marketing, and brand management of Garfield and the Garfield characters.
###