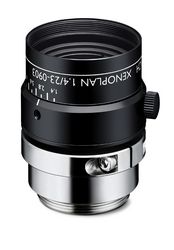 This Schneider APO-Xenoplan compact C-mount lens is the second new lens we have introduced in 2009, and more are coming.
Van Nuys, CA (PRWEB) May 6, 2009
Schneider Optics, a worldwide market leader in high-quality lenses for industrial applications, has just introduced the 23mm APO-Xenoplan 1.4 lens. This is the second new lens added this year to Schneider's line of market-leading compact C-mount lenses for high resolution mega pixel CCD and CMOS cameras for machine vision applications.
This is the first Schneider lens to be designed from the ground up to maximize the benefits of the latest 5 megapixel CCD and CMOS cameras having up to 2/3-inch sensors with pixel sizes as small as 3.45 micrometers. This makes the lens ideally suited for 3D geometric metrology, traffic supervision, medical imaging and many other applications where ultra-precise imaging is essential.
This Schneider APO-Xenoplan compact C-mount lens features a precision iris (with the popular Schneider locking mechanism) that improves control of grey-scale calibration, F-Stops from 1.4 to 11, and a magnification range from infinity to 1:5. A unique focus mechanism enables very fine focus adjustment and locking without backlash.
The robust design assures extremely reliable and precise measurements, even in the most harsh production environments. These lenses also feature a broadband anti-reflection coating for the spectral range of 400 nm to 1000 nm, which maximizes transmission and improves image contrast by reducing stray light. Combining a low-distortion design with a high-quality coating results in superior optical performance that will satisfy even the most demanding requirements of next-generation vision systems.
"This Schneider APO-Xenoplan compact C-mount lens is the second new lens we have introduced in 2009, and more are coming." said Jim Sullivan, Schneider Optics' Industrial Sales and Marketing Director. "As machine vision applications continue to grow you can count on Schneider to remain the global industry leader. As technology advances, and engineers and designers explore new applications, the Schneider technology support team headed by industry expert and Schneider Vice President, Stuart Singer stands ready to help every step of the way."
Schneider APO-Xenoplan1.4 23mm lenses have built-in M30.5 x 0.5 filter threads, to accommodate a wide range of filters.
Schneider filters improve performance in many applications.
Schneider UV, IR, Polarizing, Neutral Density and Color filters are available with threaded mounts for easy and quick attachment to all types of lenses. The Polarizing filters have new rotating mounts that allow fast and accurate alignment of the polarization axis. A new locking mechanism fixes the polarization orientation after calibration, for long term stability. Band Pass filters enhance the image contrast capabilities of vision systems that use advanced LED lighting, by allowing light only of a specified transmission wavelength (the "pass band") to pass through, while blocking any light at wavelengths shorter or longer than the pass band. Custom versions of filters with special transmission characteristics satisfy even the most challenging requirements. In addition to standard MgF2 anti-reflective coatings, all filters are available with Schneider's superior Multi Resistant Coating (MRC) which is a hydrophobic broadband multilayer coating that features an extremely high resistance to mechanical and environmental stress. Special V-coatings optimize optical systems for specific wavelengths.
About Schneider Optics:
Schneider Optics is a leading manufacturer and distributor of photographic equipment. It provides the world's highest quality photographic optics, including Schneider professional cinema projection lenses, home cinema projection lenses, world-renowned Schneider filters for motion picture and television production, B W filters, and a wide range of lenses and accessories for digital and film photography and video.
About The Schneider Group:
The Schneider Group, founded in 1913 in Bad Kreuznach, Germany, is a worldwide market leader in high quality lenses for industrial applications, photographic lenses, filters, cinema projection lenses and optical accessories. In total, Schneider has manufactured more than 15 million lenses and has created thousands of optical designs. The Schneider Group has 600 employees worldwide. It's Industrial Optics Business Unit designs, develops, manufactures and markets optical and opto mechanical components and subassemblies for machine vision and other image processing applications. By providing high quality optical solutions, Schneider helps system integrators and equipment manufacturers to enhance their vision systems.
For more information contact Schneider Optics, Inc., 7701 Haskell Avenue, Van Nuys, CA, 91406-1906; TEL: 1 818 766-3715 or visit http://www.schneideroptics.com.
To contact Jim Sullivan directly, ask for x116 or email jsullivan (at) schneideroptics (dot) com. To discuss your consulting requirements directly with Stuart Singer, call 1 631 761-5000 x204 or email ssinger (at) schneideroptics (dot) com.
###