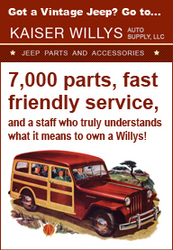 While most everything in the auto industry is trending down, there is still very strong demand for the hard to find replacement parts that we stock
Aiken, SC (PRWEB) May 7, 2009 -
Most American auto manufacturers and suppliers are in financial trouble today, but there are exceptions. Kaiser Willys Auto Supply, online retailer of Willys parts for Willys Jeeps, has realized growing profits over the past 2 years and continues to see that trend continuing.
"While most everything in the auto industry is trending down, there is still very strong demand for the hard to find replacement parts that we stock," shares president Mike Meditz. "We cater to collectors and car enthusiasts and are well positioned to grow even in a down economy."
With over 7,000 parts, Kaiser Willys Auto Supply offers one of the largest collections of Willys Jeep parts as well as parts for Willys Trucks, Willys Jeepsters and other Willys models built between 1941 and 1971. From axles to wiper blades and everything in between, parts are either NOS (new old stock) or replacement parts. Also in stock are Willys manuals, decals, vintage advertisements and more. The site, at http://www.kaiserwillys.com, allows users to search by model, product category and part type.
Kaiser Willys Auto Supply, a family owned business for over 10 years, is dedicated to providing quality vintage Jeep parts and accessories for all 1941 to 1971 Willys and Jeep vehicles. In 2002 a 6,000 square foot warehouse was built to house more than 7,000 parts and to better serve customers. Vintage Willys parts are sent to museums, repair shops and thousands of Jeep enthusiasts worldwide.
###