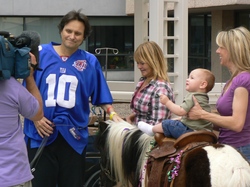 Now my life's going to have true meaning to it.
Tucson, Ariz. (Vocus) May 6, 2009
On April 9, 45-year-old Chuck Besen was discharged from University Medical Center (UMC) after making medical history. He is only the third person in the world to receive a donor heart and then a kidney transplant on the same day after living with the SynCardia temporary CardioWest™ Total Artificial Heart.
On March 27, after 156 days on the Total Artificial Heart, Besen received a matching donor heart. An hour after the heart transplant, Besen's surgeon was surprised to see him sitting up in his ICU bed writing notes to his fiancée Jennifer Hokanson. Six hours later, Besen underwent a second transplant surgery, this time for a kidney.
"To the best of my knowledge, I think there are only two other people who have had the same operations," said Dr. Jack Copeland, Besen's heart surgeon. "I would say, by definition, he is a pioneer."
Besen's discharge from the hospital after the dual transplants came just in time for him and his fiancée to celebrate their first Easter with their 13-month-old son Dylan at home.
"I had a nice little comfortable life planned out. But it wasn't rewarding like my life's going to be now," said Besen. "Now my life's going to have true meaning to it."
In October 2008, Besen had been sent to a Las Vegas hospital to undergo an aortic valve replacement. However, after the valve was replaced, his heart wouldn't start beating again. Since a donor heart wasn't immediately available, Besen was flown by air ambulance to the nearest Total Artificial Heart certified hospital, his only chance at survival.
By the time Besen received the Total Artificial Heart, his kidneys had already failed due to low blood flow. He was placed on the waiting list for both a heart and a kidney.
Click for photos:
Chuck Besen
Dr. Jack Copeland
Originally designed as a permanent replacement heart, the SynCardia Total Artificial Heart is currently approved as a bridge to human heart transplant for patients dying from end-stage biventricular failure. The Total Artificial Heart is the only device that provides immediate, safe blood flow of up to 9.5 L/min through both ventricles.
The SynCardia Total Artificial Heart is the first and only FDA, Health Canada and CE Mark approved Total Artificial Heart in the world. There have been more than 790 implants of the Total Artificial Heart, accounting for more than 160 patient years of life on the device.
###