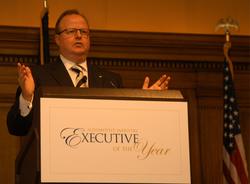 Detroit, MI (PRWEB) May 7, 2009
The 2009 Automotive Executive of the Year Award was presented to Mazda President and CEO, Jim O'Sullivan, at the Detroit Athletic Club (DAC) on May 6. The Award is sponsored by DNV Certification and was presented to O'Sullivan in recognition of his leadership, innovation, and vision for the automotive industry's future.
During his acceptance speech, O'Sullivan graciously acknowledged the entire Mazda team - both past and present - and highlighted his valued history with Ford Motor Co. A Detroit native, O'Sullivan called himself an "industry lifer," whose grandfather, father and many family members worked in the automotive industry. "I may live in California now, but my heart remains right here in the Motor City."
Surrounded by family, friends and colleagues, O'Sullivan called attention to the automotive industry's global impact. "Think of the opportunities our industry has created for people, and not just here in the U.S. but the world over," he said. "We should be proud of the fact that our industry has improved the lives of millions around the world."
In response to concerns about the industry's current distress, O'Sullivan noted that the "pain is being shared by all" and, although the industry is rapidly changing and "none of us knows what the next few months will bring," he predicts "that, regardless of all the negative news around us, things will get better…the industry will be back stronger than ever."
Responsible for all aspects of Mazda's U.S., Canadian, Mexican, and Puerto Rican operations, O'Sullivan highlighted the automakers relatively positive outlook in an otherwise bleak market. Mazda has not cut spending and, over the past 18 months, has either fully renewed or updated its entire showroom of vehicles. O'Sullivan noted that Mazda has been "recalibrating its inventory and sees more and more positive growth for the back of the year."
"Modesty, integrity, leadership, and vision, make Jim O'Sullivan the ideal recipient for the 2009 Automotive Executive of the Year Award," said Robert Djurovic, executive director of the award program. "Each of us here today has been inspired by your strong commitment to excellence for the sake of this industry."
Event and Honoree History
The Automotive Executive of the Year award has recognized excellence in automotive leadership from OEM executives since 1964. Past winners include Carroll Shelby, Jim Press, Bill Ford, Jr., Dieter Zetsche, Rick Wagoner, Henry Ford II, Robert Eaton, Thomas Stallkamp, Roger Smith, Harold E. Poling, Lee Iacocca and John DeLorean.
The Automotive Executive of the Year Award nominating committee is composed of automotive industry media, prominent industry analysts and automotive supplier CEOs. The annual award luncheon was attended by over 200 automotive industry leaders.
Biography: James O'Sullivan
Title: President and CEO, Mazda North American Operations; Managing Executive Officer, Mazda Motor Corporation
As President and CEO for Mazda North American Operations and Executive Officer, Mazda Motor Corporation, James O'Sullivan is responsible for overseeing all aspects of the company's U.S., Canadian, Mexican and Puerto Rican operations, including sales, marketing, parts and service, logistics, communications, customer support and regional operations. O'Sullivan has been in this role since April 2003 and reports directly to Masazumi Wakayama, Director, Senior Managing Executive Officer in charge of global marketing, sales and customer service.
O'Sullivan brings to Mazda a wealth of automotive experience from more than 30 years in the business. He joined Ford Motor Company in 1976 and held a number of senior sales and marketing positions during his tenure with Ford. He was appointed to his Mazda assignment in April, 2003 and formally became an employee of Mazda North American Operations in November, 2008.
Born in Detroit in 1953, O'Sullivan graduated with a bachelor's of business administration from the University of Detroit in 1976 and received an MBA with an emphasis on marketing in 1984, also from the University of Detroit.
Jim has been married for over 30 years to his wife Anne. They have four children and reside in San Juan Capistrano, California.
About DNV Certification
Established in 1864, DNV is an autonomous foundation with 300 offices in more than 100 countries. DNV is a world leader in management system certification to TS 16949, ISO 9001 and ISO 14001, and other national and international standards. Other services include training, CE Mark and product certification. Additional information is available at http://www.DNVcert.com.
###