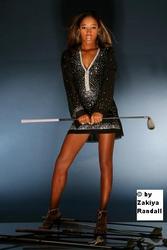 She's like a precious gemstone
Atlanta, GA (PRWEB) May 7, 2009
With her articulate speech, Zakiya Randall, smiles and speaks at events about the importance of having a vision to rooms filled with children and adults. Zakiya Randall, who only just 7 months ago became the only female to win an Amateur
Golf Channel Tour Event at the Championship level in Georgia, has been named as golf's next big LPGA star. She's has been a pioneer in golf in many respects.
"She's amazing," said Mr. Brown, a prominent business owner. "She's got the game, she's an eloquent speaker, she's a lot of fun and friendly, and she can handle the media attention."
This golf girl 'Z', doesn't just play a great golf game, she regularly gives her time to community-oriented organizations and is also drawing attention due to her model look and rock-star music she produces.
But Zakiya said her goal was to win on the Ladies Professional Tour. Brown said 'Z' is not your typical female golfer, she's a sports enthusiast, she loves talking with people about all sports and loves fashion.
Her hard work, independent will and love for the game of golf consistently is apparent to everyone who comes in contact with the golf star. She has been such an inspiration to not only girls and women but many men around the nation have picked up a golf club after reading about her and watching her play.
"She's like a precious gemstone," said Wendy Jackson, a premier business owner of fine jewelry. "She's a self-starter, she's very competitive yet she also has a model beauty look, something so very rare."
At venues when she speaks, the audience gives her standing ovations. The girls and people around the nation are always informing us on the difference she is making not just in the world of golf but the inspiration she has been in their lives, some of them just stare at her in amazement, her mother who is a natural redhead said, "It makes me feel so blessed."
She wows kids, a kid who was so elated to meet the golfer, I've never met a golfer before, she said, may I have that big photograph of you signed, with Zakiya's autograph freshly inked on the photograph. She is teaching me how to play golf.
Like her rock-star music and as the LPGA motto goes, this Z golf girl Rocks.
For more information visit: http://www.zakiyarandall.com.
###