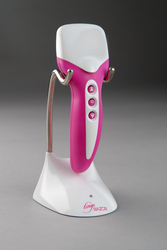 Camarillo, CA (Vocus) May 7, 2009 –
Businesswoman and mother, Tammy Roberts, puts an end to fears by women of having their intimate sex toys found out by airport security, friends and worst of all --- their kids. Tammy's own ever-present concern was the inspiration for the design of the novel stealth premium adult toy, the Tinge® Razor, cleverly disguised as a wet shaving razor. Illusions International, the developer of the product, worked with Roberts to perfect the stealth form and ideal toy functionality of this discreet product, a rechargeable vibrating massager that lives in plain view in the bathroom or luggage.
"I'm just like so many women around the world who like to have a little personal fun with our favorite adult toys but who also dread the thought of having our children walk out of the house during a neighborhood barbeque waving mommy's pleasure thing over their heads," said Tammy Roberts, creator of the Tinge Razor. "The best you can do today is to find a very small lipstick vibrator, but that doesn't really do it for most gals. It occurred to me to look for the everyday things in the bathroom to see if one of them might be the right shape and size. The wet shaving razor was perfect. As far as stealth is concerned, there are even companies that make vibrating razors to improve shaving performance. In our case, the Tinge Razor vibrates in the most pleasurable ways and has a battery life of two and a half hours – so no vibratus interruptus with Tinge."
Sold exclusively online at mytinge.com, the Tinge Razor ($99+S/H), made completely from medical grade materials, is waterproof and completely submersible. Additional features include: Discreet razor design that conceals the Tinge Razor's primary function; Rechargeable Ni-MH battery system that features a three hour full power operational life per charge using an innovative direct-to-battery charging tabletop cradle; For safety, the vibrator motor is disabled when the razor cap is removed; Touch button electronics allow for easy selection from 5 pre-programmed vibration patterns for a total of 32 unique speed/pattern settings; Replaceable Tinge razor cartridges provide for a premium quality shave.
For press inquiries or more information about the Tinge Razor and its features, or to view a promotional video that explains the features and functions of the Tinge Razor, please visit mytinge.com.
###