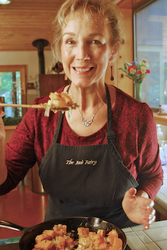 The Food Fairy has always been a friend to WUNC
Durham, N.C. (PRWEB) May 7, 2009
Terri McClernon, The Food Fairy, announced today that her company has been selected by WUNC Public Radio to cater for the Prairie Home Companion cast and crew during their May 9, 2009 performance in Durham, North Carolina.
"The Food Fairy has always been a friend to WUNC," said George McCall of WUNC Public Radio, "so when Prairie Home Companion let us know of their very particular and varied dietary needs, we immediately thought of Terri."
The live broadcast on May 9, 2009 is performed at the Durham Performing Arts Center. Garrison Keillor will be joined by special guests Robin & Linda Williams and Their Fine Group, roots duo Polecat Creek, and old-time string band Big Medicine. Additional performers include The Royal Academy of Radio Actors; Tim Russell, Sue Scott, and Fred Newman, along with pianist Richard Dworsky.
The Food Fairy has been spreading her magic as a personal chef in N.C. for over twelve years and has cooked for some of the most well known names in the Triangle area. She has been nourishing and nurturing the community through food education, as well as her personal chef and party catering services. She has been featured in Southern Living Magazine and other periodicals, and is soon to release her new cook along DVD, "Cook Once - Eat For Weeks." "I can now bring my years of personal chef experience right into your home," Terri says. "This is the first in a series of DVDs where I will be like a fairy on your shoulder: chopping, cooking and packaging along with you, while you prepare delicious, nutritious meals for you and your family."
For more information about Food Fairy services, go to http://www.food-fairy.com.
# # #