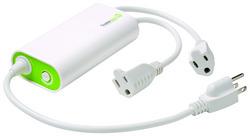 Retail Vision was the perfect platform for us to officially unveil our TV TrickleSaver to the industry before we commence shipping the devices to the USA market in early May
(PRWEB) May 8, 2009
Americans will soon be able to save 'trickling' power, save $$ AND save Earth by using the TV TrickleSaver to manage energy used by their home entertainment systems.
TrickleStar'sTrickleSaver products were selected as one of the top emerging consumer technologies to be presented at 'Fresh, A First Look at New Technology', a program designed for vendors with new technology products, that are trying to reach retailers, technology vendors, distributors and industry experts serving the retail channel across North America and Latin America.
The program, which took place at the Boca Raton Resort and Club, is part of the RetailVision exhibition and was presented by Everything Channel, in conjunction with the Sightline Group.
The Fresh presentation highlighted the TrickleSaver's key features in a lively multimedia production. As such, the TrickleSaver products were presented in a unique stage format to all technology decision-making attendees and TrickleStar co-founders Bernard Emby and Thomas Joergensen were interviewed by Ray Robidoux and Fred Brown, partners of the Sightline Group.
Following the presentation, attendees had the opportunity to engage in one-on-one discussions with TrickleStar regarding the TrickleSaver products.
"Retail Vision was the perfect platform for us to officially unveil our TV TrickleSaver to the industry before we commence shipping the devices to the USA market in early May," commented TrickleStar founder, Bernard Emby.
"Given the economic and environmental issues we all face today, we feel sure that the launch of the TrickleSaver range to the American market will provide Americans with an easy to use, affordable way in which they can take an active role in saving money by saving power, while at the same time helping to save the planet."
"Standby power or vampire power has been estimated as contributing as much as 12% to electricity bills, which means a lot of wasted power, wasted money and unnecessary impact to the planet. The TrickleSaver products put a stop to this economic and environmental drain," he added.
TrickleSaver products offer the simplest and most effective way to reduce the standby power that is consumed by PC peripheral and TV accessory devices.
The TV TrickleSaver product has inbuilt current sensing circuitry that senses when a TV is on or off. So, when the TV is 'on' the TV TrickleSaver switches power to all accessory devices. Conversely, when the TV is 'off', it switches off all accessory devices, so there is no continuing flow of 'standby power'.
The TV TrickleSaver's 'sister product' the PC TrickleSaver reduces the standby power that is consumed by PC peripheral devices. When a PC is on the PC TrickleSaver switches power to all PC peripherals and switches off all peripherals when the PC is shut down.
Both the TV and PC TrickleSavers are typically connected to a standard electrical power-strip in order to power a number of connected devices.
The TV TrickleSaver and PC TrickleSaver are reliable, cost-effective, easy to use, environmentally friendly and offer superior technology to anything else on the market today.
TV TrickleSaver RRP $34.95
PC TrickleSaver RRP $24.95
Units can be purchased via http://www.tricklestar.com and via reseller outlets.
About TrickleStar
TrickleStar Pty Ltd was founded in 2007 by Thomas Joergensen and Bernard Emby. A privately held company, TrickleStar is based in Hong Kong and has offices in Singapore, China, UK, Denmark and Malaysia.
TrickleStar has developed a unique suite of products which address the issue of standby power used by both general appliances and PC peripherals and stop the flow of standby power when appliances are in 'standby' mode.
TrickleStar's 'TrickleSaver' products - designed for PCs and TV accessories and other electrically powered products - will help to reduce individual and family 'environmental footprints' AND electricity bills!
In mid 2009, TrickleStar will launch its world's latest 'truly green' power saving devices to the USA, Denmark and Australia - countries where there is greater awareness of the need to reduce carbon emissions.
TrickleStar will then launch its products into the markets in Germany, UK, Italy and Japan later in 2009. For more information, visit http://www.tricklestar.com.
About Standby Power
Measurements in many countries have estimated that standby power may be as high as 12% of residential electricity consumption in some economies.
Many standby products are designed to draw standby power 24 hours per day, seven days a week, every month of the year in order that the appliances can act more quickly when the user turns the appliance 'on'.
As such, standby power is both a constant drain on people's hip pockets, the electrical grid and has a negative impact on the environment… and our planet.
TrickleStar's products - designed for PCs, PC accessories and other electrically powered products - will help to reduce individual and family 'environmental footprints' AND electricity bills!
# # #