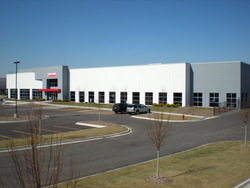 When we moved from Chicago to Bensenville in 1979 we didn't think we would ever run out of space. Soon we added an addition, then another, and then added more land and another building. Thirty years later we have another exciting expansion opportunity at a new site. This time, though, we are fully expecting to grow into it quickly
Bartlett, IL (PRWEB) May 7, 2009
After a two years planning and construction Auto Truck Group has officially moved into their new state-of-the-art 103,000 square foot headquarters in Bartlett, Illinois. The new facility, 1420 Brewster Creek Blvd., Bartlett, IL 60103, is located on a 16-acre lot. "This is a huge improvement over the Bensenville facility where the fabrication department and paint shop were in two separate buildings. It added hours to the job and exposed the bodies to inclement weather", said Dave Westen, VP Operations for Auto Truck Group.
The installation department will have additional bays, which will help reduce lead times. Also, an open floor plan design will allow projects to be staged in an assembly line fashion. The new facility includes a 5,000 square foot retail and service center.
"When we moved from Chicago to Bensenville in 1979 we didn't think we would ever run out of space. Soon we added an addition, then another, and then added more land and another building. Thirty years later we have another exciting expansion opportunity at a new site. This time, though, we are fully expecting to grow into it quickly," said Dave Westen.
Auto Truck Group, headquartered in Bartlett, IL, has been Making Trucks into Tools since 1918. They offer extensive experience, knowledge, excellent service, competitive prices, and tremendous value to their customers. Auto Truck Group's five locations provide convenient access for up-fitting in the work truck industry. For more information please visit, http://www.autotruck.com.
###