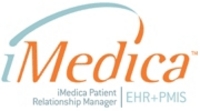 We are pleased to have Dr. Ray Fabius on the iMedica board. He brings a wealth of experience on both the clinical and business side of medical practices
Dallas (Vocus) May 8, 2009 -
iMedica Corporation, a leading developer of healthcare software solutions for physician practices, announced today the appointment of Dr. Raymond J. Fabius to its board of directors. Dr. Fabius is a global physician executive who has served as a medical leader in academics, private practice, managed care, the health insurance industry, e-Health and the corporation-purchaser space.
"We are pleased to have Dr. Ray Fabius on the iMedica board. He brings a wealth of experience on both the clinical and business side of medical practices," said Michael Nissenbaum, CEO of iMedica. "Dr. Fabius' perspectives will help shape our go-to-market strategies and ensure that our electronic health record (EHR) and medical practice management software become the solutions of choice for physicians."
"EHR software is typically based on templates. iMedica's template-free design shortens the learning curve and disruption that physicians experience," noted Dr. Fabius. "That leads to greater adoption across a medical practice and ultimately drives better clinical outcomes, lowers practice costs and improves financial results. The seasoned leadership team here is clearly committed to the needs of the Main Street physician and to building effective communities of health care providers for patient constituencies."
Presently, Dr. Fabius is the Strategic Advisor to the President of Walgreens Health & Wellness Division where he is responsible for crafting their population health enterprise solution. Previously he served as President and Chief Medical Officer of I-trax/CHD Meridian (AMEX: DMX), where he directed research, quality management, clinical services, health informatics and new business development. I-trax was the leading provider of integrated on-site medical services and served over 100 blue chip clients with a network of over 300 domestic clinics at the time of its sale to Walgreens. During his three years there, the company market cap quadrupled.
Prior to I-trax, Dr. Fabius oversaw a network of over 230 on-site medical clinics as GE Global Medical Leader. Earlier in his career, he served as a regional or corporate clinical leader for Cigna, US Healthcare and Aetna.
Dr. Fabius has written and lectured extensively in quality management, disease management, utilization management, credentialing and network development, the purchaser-payer-provider-patient/employee axis and eHealth. He has also served as a board and faculty member with the American College of Physician Executives (ACPE) and was selected to be an ACPE Distinguished Fellow in 2005, a recognition reflecting his significant contribution to medical management. ACPE published both of his books including, "Total Care Management - A Physician Executive's Guide to Medical Management for the 21st Century," which ACPE recognized as the best text in the field in 2001.
Additionally, Ray has participated in a wide variety of national efforts to improve health care delivery including Bridges to Excellence, the National Committee for Quality Assurance, Health Internet Ethics, the MedUnite Project, URAC, Health Enhancement Research Organization, Institute of Health & Productivity Management, National Business Group on Health, National Business Coalition on Health and most recently, the Carter Center.
Dr. Fabius is boarded in pediatrics and medical management and is a fellow of the American Academy of Pediatrics. He graduated from Hahnemann Medical College (now part of Drexel University) and completed his pediatric residency at Children's Hospital of Los Angeles. In 2006 Dr. Fabius was recognized as a Distinguished Alumni of Drexel University Medical School and serves on the Advisory Council to the Dean of the Medical School.
About iMedica Corporation
Founded in 1998, iMedica Corporation is an innovator in the development of electronic health records (EHRs) and practice management (PM) solutions for physician practices. Based on its comprehensive study of physician practice workflow and extensive consultations with practicing physicians, iMedica has developed Patient Relationship Manager™ (PRM), a single-application EMR and PM solution that utilizes Microsoft's latest .NET technology. PRM's unique, template-free design adapts to a physician's workflow and sets the benchmark for ease of use and deployment, speed and portability. iMedica's replication technology enables backup, recovery and accessibility, as well as customization and solution management with minimal IT staff intervention. iMedica PRM 2008,version 8.1 is a CCHIT Certified ® product for CCHIT Ambulatory EHR 2007. For more information, call 866-960-6890 or visit http://www.iMedica.com
Company Contact:
Randy Schiff
214-466-8093
Media Contact:
Christopher Capot, KNB Communications
212-505-2441 (o), 203-379-8019 (c)
###