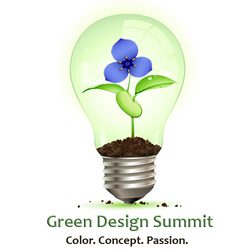 The Green training also may help these professionals' finances stay in the black
Denver, CO (PRWEB) May 11, 2009
With the goal of helping architects and interior designers meet the rising demand for earth-friendly materials and designs, a Colorado firm is launching the first online Green Design Summit June 29-30.
"The Green training also may help these professionals' finances stay in the black," says Gail Doby, co-founder of Denver-based Design Success University, which is hosting the Green Design Summit over the Internet. The telesummit begins at 11 a.m. EDT each day and is expected to draw 800 to 1,000 participants.
Proceeds from the event will put some greenbacks in the coffers of Greenburg, Kansas. A small city leveled by a huge tornado in 2007, Greensburg rebuilt in a way that lived up to its name…by going GREEN. Mayor of the "town that could," Bob Dixson, said his city will receive 5 percent of the telesummit's profits to aid in to aid in rebuilding Greensburg's public facilities. Additionally, co-founders Doby and Weir are challenging Green Summit participants to seek out materials by suppliers and vendors. These donations will go toward the city's efforts in rebuilding their theater and museum.
The two-day Green Design Summit, available nationwide and internationally, will offer a host of well-known experts in Green construction, architecture, interior design and the ecological impacts and tax benefits of going Green.
Speakers for the event include:
· Ed Begley, Jr. - Environmental Activist, Actor and HGTV star of Living with Ed - "Living Green With Ed"
· Penny Bonda - "Mother of Green Interiors" - "The New LEED Requirements - What You Need to Know"
· Leslie Carothers - The Kaleidoscope Partnership - "How To Specify Green Furnishings"
· Bob Dixson - Mayor of Greensurg, Kansas - "The Story of Greensburg and How Miracles Can Come From Devastation"
· Joshua Foss, LEED AP - Host of Get Green and Blueprint Green - http://www.HGTV.com - "Building Your Practice With Sustainable Design"
· Lisa Foster - Founder of 1 Bag At A Time - "What Is Your Carbon Footprint and What Can You Do to Reduce It?"
· Tom Hamilton - Senior Product Marketing Manager for Philips Color Kinetics - "Designing Energy Efficient Lighting & Maintaining Aesthetics"
· Libby Langdon - HGTV Star of Small Space, Big Style, Author of Design In Small Spaces - • "Visually Trick the Eye - Libby Langdon's Ideas for Living Large in a Small Space."
· Michael Port - Top-selling Author & Business Coach -"The Think Big Manifesto - Think you can't change your life (and the world)? Think again."
· Sarah Susanka - Best-Selling Author of Eight Books, Architect & Certified Interior Designer - "not so big remodeling"
· Cassie Walker - Author of The Green Office Handbook and Founder of The Sustainable Office - "How To Green Your Office"
· Robin Wilson - New York Interior and Product Designer - "Eco-friendly Design From The Foundation To The Furniture"
Doby and Erin Weir, both interior designers, also co-founded Design Success University to educate and coach designers about business, marketing and green design not taught in design school.
"This has really been a tough time for designers and architects and we will present a whole plan, including a marketing program, for them to boost their business while instituting practices that help the environment and satisfy the growing interest in eco-friendly buildings and homes," said Weir.
The Green Design Summit requires no traveling and is a wholly green event delivered by telesummit/webcast. Says Doby, "We don't believe anyone has done anything quite like this for Green design."
Attendees will receive downloadable MP3 recordings and transcripts of each speaker interview. Tickets are $247 June 1 - 10 at Midnight Eastern, and $297 starting June 11 at http://www.GreenDesignSummit.com/event.
For more information, contact Gail Doby, Design Success University, at 303-355-9449.
###