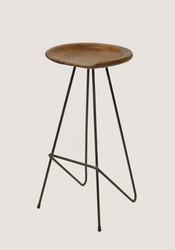 Brooklyn, NY (PRWEB) May 13, 2009
From the Source Debuts New Furniture Designs:
Earthbound Materials Take Flight in Buoyant Silhouettes From the Source, a leader in sustainable furniture, will debut its latest designs at the International Contemporary Furniture Fair in New York (ICFF). The firm's furnishings are crafted by master artisans using reclaimed, vintage, salvaged or plantation-grown hardwoods exclusively. If there is a theme to this year's designs, it is an air of nimble grace, a characteristic not often associated with handcrafted furnishings wrought of natural hardwoods and metal.
An elegant yet forthright stool called The Perch is destined to find its place in the hippest bars on the planet, as well as in urban lofts, artist's studios and contemporary country kitchens. The graceful lines of the Perch start with the clean geometry of the wrought iron stand, and culminate in the sinuous scoop of the carved wood seat. There's even a low-slung crossbar on which to rest one's soles, be they Louboutin's or Tom's.
A media stand called The Float features a live-edge mango wood slab top which seems to have wafted in on an island breeze, stopping to hover several inches above a teak base cabinet. Closer inspection reveals crisp metal supports beneath both top and base, which lift the solid elements up and away from each other and the surrounding floor, leaving enough negative space to place the focus squarely on the dramatic grain and texture of the wood. The Float also offers practicality in the form of shelves and drawers for media storage, concealed behind sleek doors that form a swath of extreme wood grain on the front.
Also on tap, the new Christie Desk combines a generous surface of natural wood planking with a base of open metal squares that form two discreet v-shapes for sturdy support with an airy feel. The desk pairs beautifully with the new Strand open shelving unit, its name an homage to the storied Manhattan bookseller. Two rectangular vertical steel supports frame three tiers of teak planking. The metal frames extend above and below the shelves in a structure that, while contemporary in form, echoes the charms of a historic bridge. Perhaps the one that spans the very river flanking the old rope factory that's home to From the Source's design studio in Greenpoint, Brooklyn.
The sweet smoothness of a circle takes on a rock-solid countenance when carved from a piece of natural teak. Pairing thick, delicious wood disks with a ring-shaped steel base, the Ring can be either an occasional table or a stool and is offered at a 20-inch or 15-inch height. Either way, this versatile and timeless piece would be at home in almost any setting.
And, seeming to have alighted in Brooklyn from outer space are a nightstand called Nyx and the Ciao cocktail table which can double as a low-slung media unit. Their whimsical bent steel legs support teak tops that have been crafted as rectangular boxes with only four sides - two vertical planes on opposite long sides have been left entirely open to create a second level of accessible surface, storage or display. Both pieces embody a decidedly Jetson-esque chicness.
The designs at From the Source are the result of a collaborative process between the firm's Brooklyn-based design team and artisans in Indonesia. The result this season is an assortment of contemporary pieces that, as always, celebrate the beauty of nature. They are offered through the firm's two retail boutiques in Chelsea, New York City, and Dumbo, Brooklyn as well as at their 25,000 sq. ft. warehouse located in the historic waterfront district of Greenpoint, Brooklyn. The firm also sells select styles through approved retailers nationwide including Urban Outfitters and the Sundance catalogue. For more information, http://www.fromthesourceny.com.
# # #