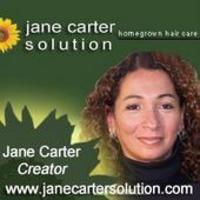 3 Simple Secrets to Growing Great Hair
East Orange, NJ (PRWEB) May 15, 2009
Jane Carter Solution is a website which has been launched mainly for women who care about their hair. The site has lot of information and tips on how to keep hair healthier and stronger. Jane Carter said that, "After 20 years of experience in working with every different hair texture imaginable and frustrated by not being able to find natural based hair care products that worked effectively for everyone, decided to start The Jane Carter Solution."
As a gift for going to the Jane Carter Solution site, Jane Carter is offering for a limited time a free E-Book entitled "The 3 Simple Secrets To Growing Great Hair". This free e-book is a valuable resource for women need to grow hair to be stronger and healthier.
Jane Carter Solution products are specifically designed for dry hair, including curly, wavy, straight, relaxed, natural hair, color treated and locked hair. Jane Carter Solution uses ingredients derived from nature, natural butters, and certified organic essential oils that make hair vibrant and alive again. Thousands of satisfied customers and salon professionals continue to use Jane Carter's products products on a regular basis for the past 10 years because they continue to get great results.
Jane Carter Solution is frequently updated with product discounts, general and natural hair care information and free Teleseminars which aids her customers in getting their hair care questions answered and their hair care problems resolved. Jane Carter Solution offers a complete selection of hair care products targeted at healing hair problems and helping with hair issues that range from dry hair, curling hair, dandruff, oily hair.
Many women continue to use Jane Carter's Products because they want their hair to be more beautiful, stronger and healthier. Jane Carter Solution is the perfect place to go, to overcome hair care problems naturally. Visit Natural Hair Care Solution and download the free E-book, "3 Simple Secrets to Growing Great Hair" Now. Your hair will "thank you" for it.
Jane Carter
East Orange, NJ
USA - 07018
1-877-HAIRCARE
Support (at) janecartersolution (dot) com
Hair Care Solution
###