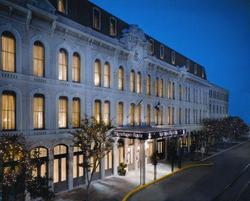 Galvaston Island, Texas (Vocus) May 18, 2009
The Tremont House, a Wyndham® Historic Hotel and Historic Hotel of America, will reopen June 1 following the restoration of its first level with a special introductory rate Sundays through Thursdays from $119 a night and on Saturdays and Sundays from $185 a night.
Located in the 1879 Leon & H. Blum Building in the heart of historic downtown Galveston, the hotel suffered flooding on its first floor last year during Hurricane Ike.
The hotel's restored lobby and Toujouse Bar area, which will continue to reflect a European-style hotel decorated in black, white, grey and green palettes, now features new JANUS et Cie furniture, Calacatta marble and an expanded front desk. The historic Toujouse Bar, which dates to the 1870s, was not damaged by the storm.
A new Tremont Café, coming in July, will feature Starbucks® coffee, pastries, oven-cooked pizza, gourmet sandwiches, salads, soups and desserts. The Café will serve breakfast, lunch and dinner as well as provide items for room service.
Designed to appeal to travelers' mobile computing needs, the café will feature 42-inch plasma monitors, Internet booths and complimentary wireless Internet access and printing. The Tremont House also will offer free wireless Internet service in its lobby and guest rooms.
The Tremont House will soon be one of the first hotels in Texas to offer allergen-friendly guest rooms and meeting space through the upscale chain's Wyndham ClearAir™ initiative. Utilizing a comprehensive purification system designed by New York-based Pure Solutions NA, Wyndham ClearAir rooms undergo a multistep cleaning process designed to remove up to 98 percent of allergens.
The Tremont House is owned by Mitchell Historic Properties. For information call (409) 763-0300, (800) WYNDHAM, or visit http://www.wyndhamtremonthouse.com. The introductory rate is offered to individual travelers June 1 through 30, subject to availability.
Wyndham Hotels and Resorts, LLC and its affiliates, subsidiaries of Wyndham Worldwide Corporation (NYSE: WYN), offer upscale hotel and resort accommodations throughout the United States, Europe, Canada, Mexico and the Caribbean. All hotels are either franchised or managed by Wyndham Hotels and Resorts, LLC or an affiliate. For additional information or to make a reservation, go to http://www.wyndham.com.
Media contact: Christine Hopkins, Mitchell Historic Properties • (409) 457- 1055
Note: Mitchell Historic Properties Pressroom includes high resolution photos including a rendering of the restored lobby and new Tremont Cafe. Please use username: mhpphotos and password: history to download photos.
###