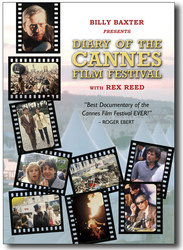 Roger didn't know I was coming out with the DVD
New York, NY (PRWEB) May 16, 2009
Billy Baxter parlayed the start-date of the 62nd Cannes Film Festival for maximum publicity impact. He scheduled the DVD release of his rarely seen documentary, "Diary Of The Cannes Film Festival With Rex Reed," the same day Cannes kicked-off.
After setting his strategy, Billy invited his friends to a Wednesday matinee luncheon at Sardi's Restaurant to celebrate. "Roger didn't know I was coming out with the DVD," Billy said, referring to Roger Ebert. "I love the guy. No contest.'"
Roger Ebert wrote a story about Billy "Silver Dollar" Baxter in his blog. He described how Billy got his nickname tipping silver dollars to the waiters and bartenders at the American Bar of the Hotel Majestic.
Roger Ebert is back in Cannes. Meanwhile, his favorite real-life character is holding court amidst the Sardi's caricatures. "Irving, what do you recommend apart from another restaurant?" Billy said to the waiter. "Johnnie Walker Red Straight-Up In A Snifter. Lloyd, what are you having?"
"The cannelloni looks good," said Lloyd Kaufman, President of Troma Entertainment.
"Forget the cannoli, Kaufman. What are you drinking?"
"Just a Diet Coke, Billy."
"Surrounded by amateurs and assassins," he said. "Lloyd, you're damaging my reputation in this joint."
"Too early in the day for me, Billy," Kaufman said.
"Irving, get Toxic Avenger what he wants then throw him out of here," he said to the waiter. "Okay, Slippery," Billy said to Agent Jerry Rudes, founder of the Avignon and Avignon/ New York Film Festivals, "what do you come up with besides your lunch?"
"Glass of red wine," said Rudes, who holds dual American and French citizenship.
"To be expected from a half-a-Frenchman," he said. "What are you drinking, Jack?"
"Absolut On The Rocks With A Lime," I said.
"Man after my own heart."
"Salud à vous tous," Billy said, lifting his snifter. "Here's to the new/old venture: "Diary Of The Cannes Film Festival."
We raised our glasses and then drank.
"Jack, remind me to clean-out the closet more often."
"I will, Dad."
Billy Baxter Presents Diary Of The Cannes Film Festival With Rex Reed is an eye-opening documentary that reveals the behind-the-scenes partying and plotting at one of the most memorable festivals in Cannes' storied history when titans Bob Fosse "All That Jazz", Akira Kurosawa "Kagemusha" and Peter Sellers "Being There" competed before a jury presided over by movie-legend Kirk Douglas for the prestigious Palme d'Or.
Producer Billy Baxter | Associate Producer Kathleen Carroll | Assistant Producer Jack Baxter
A Billy Baxter Presentation
Kathleen Carroll is a three-time Chair of the New York Film Critics Circle and the Artistic Director and Co-Founder of the Lake Placid Film Forum.
Jack Baxter is a filmmaker and freelance journalist from New York City. He is writing an original screenplay about Eddie Adams, legendary photographer and Special Correspondent for AP, awarded a Pulitzer Prize in 1969.
###