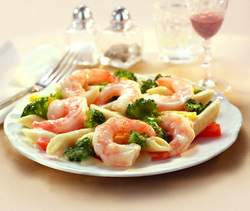 At Nutrisystem, we keep our customers' needs top of mind
Horsham, PA (PRWEB) May 19, 2009
With bathing suit season right around the corner, many consumers are focused on finding healthy ways of slimming down and getting back into their bathing suits, shorts or tank tops! Nutrisystem, Inc., a leading weight loss provider that delivers pre-portioned meals right to your door, offers a variety of healthy and gourmet-style meal choices for consumers looking for an easy and convenient way to shed those extra pounds they gained during the colder months. NutriSystem weight loss programs are based on 35 years of science and nutritional research and are the first prepared foods program that totally integrates low glycemic index carbohydrates into meal plans that are also low in fat, high in protein and will help you feel full longer. They are also enriched with heart-healthy Omega-3s to help promote heart health. Now, for a limited time, consumers can save additional money with the Nutrisystem "One Month Free"* offer. Customers will receive four weeks of gourmet-style food, 112 meals, absolutely free by visiting nutrisystem.com/monthfree or by calling 1-877-335-4741.
Nutrisystem is Convenient and Offers Great Value for the Money
With Nutrisystem, there is no counting of calories, carbohydrates, or points and no embarrassing weigh-ins. Gourmet-style menu choices are delivered from Nutrisystem's kitchen to its customers' doorsteps. Losing weight with Nutrisystem is not only easy and effective, it also saves money. In fact, a study conducted by the National Business Research Institute (NBRI) found Nutrisystem to be hundreds of dollars less than other weight loss programs . For as low as $3 a meal, consumers can save money, lose weight, eat healthy and feel great with Nutrisystem. And, for two years in a row, Forbes.com found Nutrisystem to be the lowest priced popular weight loss program. All Nutrisystem programs come with a money back guarantee if customers are not completely satisfied.
Free Membership
To provide an even greater value, Nutrisystem customers receive free 24/7 phone counseling with weight loss coaches, as well as free membership to its robust online community of over four million people sharing weight loss success stories and tips. Nutrisystem customers have free access to a host of online tools including a menu planner, food diary and progress tracker.
"At Nutrisystem, we keep our customers' needs top of mind," said Monica Woo, Executive VP Ecommerce and Chief Marketing Officer. "We recognize how important weight loss is to living a healthier life and are pleased that we can offer a Nutrisystem program that fits into each and every customer's lifestyle. And with the 'One Month Free' program*, there's an even greater incentive to lose weight. During these challenging economic times it's even more important to take care of your health. We hope everyone takes advantage of this valuable offer and gets started today."
With Over 170 Gourmet-Style Meals to Choose From, There's Something for Everyone
Customers select from one of Nutrisystem's specially designed programs for Men, Women, Seniors, Vegetarians or the New Nutrisystem D, for people with diabetes. Then, they can customize their menu by choosing from over 170 gourmet-style delicious menu selections or select one of our pre-selected favorites menus. The Nutrisystem website provides free of charge online proprietary tools to make it easy for customers to customize their daily menu, so that everyday they can try new delicious entrees or enjoy their favorites.
Nutrisystem's New Select Program Offers Frozen Entrees and Treats – Including Ice Cream
With Nutrisystem's newly launched Select program, customers can enjoy restaurant-quality, fresh-frozen entrees and desserts including Shrimp Alfredo, Margherita Pizza, Ice Cream Sandwiches, and Fudge Swirl Sundaes, all while sticking to their weight loss plan.
In addition, consumers can enjoy Nutrisystem Flex, the brand's most flexible and affordable weight loss program, which is perfect for those who are "on the go" in the busy summer months. The Flex program makes it easy for consumers to incorporate Nutrisystem into their busy lifestyles while still ensuring they get the results they want, all while beginning to apply Nutrisystem principles into their daily lives. On the Flex program, customers mix and match Nutrisystem foods and can have "weekends off" to enjoy healthy home-cooked or restaurant meals following Nutrisystem guidelines. Nutrisystem also provides a comprehensive Dining Out Guide to help participants make the right choices at their favorite restaurants, and a Nutrisystem Recipe Book, which allows customers to learn how to prepare nutritionally balanced meals for themselves and their whole family.
For additional information on Nutrisystem or the "One Month Free" offer*, visit nutrisystem.com/monthfree or call 1-877-335-4741.
About Nutrisystem, Inc.
Nutrisystem, Inc. (NASDQ: NTRI) is a leading provider of weight management products and services. Nutrisystem is sold direct to the consumer through nutrisystem.com for convenient home delivery. The company offers proven nutritionally balanced weight-loss programs designed for women, men, and seniors, as well as the new clinically tested Nutrisystem D plan, formulated specifically to help people with type 2 diabetes lose weight. All Nutrisystem programs are based on 35 years of nutrition research and offer great tasting, satisfying high-fiber, heart healthy, good carbohydrate meals that are low on the Glycemic Index and contain zero trans fats. Nutrisystem is hundreds of dollars cheaper than other weight loss programs, based on an independent study by National Business Research Institute (October 2008). The program has no membership fees and provides 24/7 weight management support by trained weight loss coaches and online weight management tools free of charge. For more information or to become a customer visit http://www.nutrisystem.com or call 1-877-681-THIN (8446)
*NBRI Research Methodology
Seven (7) diet programs were researched independently using the same manner as a consumer would research the programs in making the decision to participate in one of the included programs. This research included visiting the websites for each of the programs, contacting each program by telephone for clarification and/or additional information, visiting centers, where applicable, and visiting various supermarkets to cost ingredients for recommended meal plans.
The process was to calculate actual costs for participating in a program for one (1) month. Specifically, calculations were based on program costs for 28 days. Grocery costs were calculated by adjusting the local prices (Dallas, TX) for the Cost of Living Index. Grocery prices in the Dallas area are .936 of the National Average, according to the ACCRA Cost of Living Index (http://www.coli.org). Weekly costs were based on 4.33 weeks per month. Recommended meal plans were included for those programs that require participants to use self-prepared meals.
The independent cost analysis study was commissioned by Nutrisystem.

Offer good on 28-Day Auto-Delivery order only. Free shipping, Continental US only. Free month of food will be shipped after your purchase of three consecutive 28-Day Auto Delivery orders. With Auto-Delivery, you are automatically charged and shipped your 28-Day program once every 4 weeks unless you cancel. You can cancel Auto-Delivery at any time by calling 1-800-321-THIN. However for this offer, you must stay on Auto Delivery for three consecutive 28-Day program deliveries to receive your free month of food. Other restrictions apply. Call or see website for details. Cannot be combined with any prior or current discount or offer. Not available on Flex programs. Limit one offer per customer. Offer expires 12/31/2009.
###