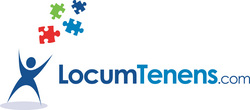 Texas is a leading market for locum tenens services, so we are excited about the opportunity to expand with our Dallas office
Alpharetta, GA (Vocus) May 20, 2009
LocumTenens.com has announced plans to open a new office in Dallas, Texas, and has named veteran healthcare staffing executive Don Robb as Vice President. Robb, a Dallas native, has been charged with opening the new office.
Most recently Robb served as executive vice president for Med Travelers, located in Dallas. Robb brings over 15 years of healthcare staffing experience and a proven track record for developing top producing teams to LocumTenens.com.
"Texas is a leading market for locum tenens services, so we are excited about the opportunity to expand with our Dallas office," said Shane Jackson, president of LocumTenens.com. "Don is the ideal choice to head our new office - not only does he bring 15 years of experience in healthcare staffing, but he knows the Dallas area. We are thrilled to have him on board."
"I'm delighted to join a company that's growing and expanding even in a difficult economy. There's so much to be excited about at LocumTenens.com, and I'm eager to begin hiring for the Dallas location," said Robb.
LocumTenens.com is currently accepting applications for sales and recruiting positions and will be conducting candidate interviews in Dallas in the coming weeks.
Previously, Robb served in numerous leadership positions in the nine years he worked for Staff Care, Inc. Robb earned a bachelor's of business administration degree in Marketing from Baylor University in Waco, Texas
About LocumTenens.com
Founded in 1995, LocumTenens.com is a full-service physician recruitment firm specializing in anesthesiology jobs, psychiatry jobs, radiology jobs, surgery jobs and CRNA jobs with U.S. hospitals, medical groups and community health centers. LocumTenens.com is part of the Jackson Healthcare family of companies. To learn more, visit http://www.locumtenens.com/welcome .
Media Contact:
Deb Zelnio, Director of Marketing Communications
Phone: 770.643.5746
Email: zelnio (at) locumtenens (dot) com
Send Resumes to:
Kim Wacker, Corporate Recruiter
Email: kwacker (at) locumtenens (dot) com
###