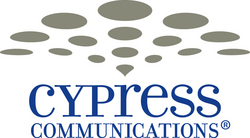 When Cypress set out to expand beyond its legacy business in 2006, the available IP platforms could neither support standard calling features nor match PSTN call quality, which are both indispensible for small-to-medium enterprises (SME)
Atlanta, GA (Vocus) May 20, 2009
Cypress Communications today announced that its hosted unified communications solution, C4 IP™, has been honored with the First Annual Next Generation Network (NGN) Leadership Award, presented by Technology Marketing Corporation's (TMC) publication, NGN magazine. This is Cypress' twelfth award for product innovation. TMC established the NGN Leadership Award to recognize outstanding achievement in the IP Communications community, including outstanding products, services and technologies relating to IP multimedia subsystem (IMS) and NGN environments.
"Cypress Communications has been recognized for their exceptional work in advancing IMS and NGN services and technologies, and we honor C4 IP with an NGN Leadership Award. With the significant growth in next generation network technologies, receiving this award distinguishes Cypress as a leader in the industry," stated Rich Tehrani, president of TMC.
C4 IP is a hosted unified communications solution that comes complete with converged voice and data services; audio, video, and Web conferencing; and a powerful suite of collaboration tools to connect employees, such as instant messaging, find-me/follow-me, desktop sharing and real-time presence. The C4 IP solution is the result of Cypress' quest to develop an IP-based network architecture that could support traditional calling features as well as deliver VoIP and advanced unified communications functionality, all while providing the same voice quality as traditional communications technologies.
"When Cypress set out to expand beyond its legacy business in 2006, the available IP platforms could neither support standard calling features nor match PSTN call quality, which are both indispensible for small-to-medium enterprises (SME)," said Frank Grillo, executive vice president of marketing at Cypress Communications. "With over 20 years in the communications industry, we knew that we had the technical talent and resources to mitigate those disparities and forge new territory in the IP communications market—and we did with C4 IP. The market and industry response has been phenomenal, and we are honored to be recognized by TMC with this award."
To transcend the capabilities of available technologies, Cypress took the unconventional path of integrating two traditionally disparate platforms: the Nortel CS2000 soft switch, which delivers traditional PBX features, and the Nortel MCS5200, which handles the multimedia components of the C4 IP solution. With the successful integration of these platforms, Cypress became the only company in the U.S.—and only one of three in the world—to accomplish this feat. Cypress took its network one step further by also integrating the Movius unified messaging platform.
With its advanced network architecture, Cypress offers unmatched levels of business continuity and disaster recovery. Beyond the inherent component and geographic redundancy that guarantees 99.999% availability and local site survivability, Cypress' network also supports three failover options that can be customized for clients: VoIP failover, VoIP and public data failover, and VoIP and private data failover.
And, since C4 IP is delivered as a fully hosted solution, SMEs can take advantage of the same enterprise-grade applications and technologies as their larger counterparts—while actually lowering their total communications spend. Cypress provides all the equipment and manages the solution from the network to the phone on each desk, so there's no capital expense, no worries of technological obsolescence, and no need for SMEs to hire or train additional IT staff to manage the solution.
The 2009 NGN Leadership Award winners can be found in the May/June 2009 issue of NGN magazine, http://www.ngnmag.com.
About Cypress Communications
For over 20 years, Cypress Communications has been helping small-to-medium enterprises (SMEs) connect, communicate, collaborate and continue™ with a range of fully hosted and managed voice, data and Internet solutions. Beginning in 2006, Cypress revolutionized the communications industry with its hosted VoIP and hosted unified communications solution, C4 IP, making it easy for SMEs to take advantage of productivity-enhancing technology such as integrated audio and Web conferencing, multimedia collaboration tools, presence, chat, Microsoft® Outlook integration, and more. As a Deloitte Fast 50 and Fast 500 award recipient, Cypress is recognized as one of the fastest growing telecommunication companies in North America. In 2008, the company was also named one of Atlanta's Best Places to Work. Cypress' hosted unified communications solution has received numerous awards and accolades, with 12 awards for excellence and innovation to date. The company's Web address is http://www.cypresscom.net.
To learn more about hosted unified communications, visit the company's UC 360 blog at http://blog.tmcnet.com/uc-360.
About NGN magazine
NGN magazine is the resource for communications service providers and the supporting ecosystem of equipment providers, system integrators, and solutions developers as they make the transition to next generation networks.
NGN magazine will cover how these new technologies will integrate with legacy systems, and how they will improve service, deliver new applications, and offer ROI to carriers. TMC continues to provide leading-edge information as this market develops. NGN represents the evolution of IMS Magazine. Launched in January 2009, NGN encompasses a wider swath of the important trends and newsmakers that are shaping the networks of the future.
About TMC
Technology Marketing Corporation (TMC) is a global integrated media company helping our clients build communities in print, in person and online. TMC publishes Customer Interaction Solutions, INTERNET TELEPHONY, Unified Communications, and NGN Magazine. TMCnet, TMC's Web site, is the leading source of news and articles for the communications and technology industries. TMCnet is read by two to three million unique visitors each month worldwide, according to Webtrends. Ranked 3,034 by Quantcast, TMCnet is in the top .03% most visited Web sites in the US. In addition, TMC produces ITEXPO, 4GWE Conference, Digium|Asterisk World and Communications Developer Conference. TMC also recently launched new industry-specific Web sites: IT.TMCnet.com, Cable.TMCnet.com, Robotics.TMCnet.com, Satellite.TMCnet.com, Green.TMCnet.com.
For more information about TMC, visit http://www.tmcnet.com.
© 2006-2009 Cypress Communications, Inc. The Cypress Communications logo is a registered service mark of Cypress Communications, Inc. C4 IP is a trademark of Cypress Communications. Connect, communicate, collaborate and continue is a trademark of Cypress Communications. All other marks used herein are the property of their respective owners.
###