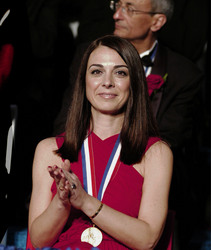 I am honored to be included in such a distinguished group of medalists and I am inspired to even greater acts of humanitarianism. I believe that all individuals are capable of generosity and compassion and I hope to be a role model in my community to inspire others to share their good fortune
New York, NY (PRWEB) May 22, 2009
Lana Todorovich, Senior Vice President of Warnaco's Calvin Klein (CKU) division, was awarded the Ellis Island Medal of Honor on Saturday May 9th, 2009. Each year, NECO awards the medal to outstanding American citizens who portray a lifestyle dedicated to the community, exhibit interests for the preservation of cultural groups and who share and contribute through personal and professional achievements toward the overall benefit of society.
Lana Todorovich is the Founder of the Circle of Hope Children's Foundation, with the mission of providing relief to orphaned and refugee children who were suffering from isolation, poverty and displacement due to the war in former Yugoslavia. The Foundation's current projects include supporting after-school programs for inner-city teens in the Bronx and homeless children in New York City.
Both the United States Senate and House of Representatives have officially passed resolutions recognizing the Ellis Island Medals of Honor, which ranks among this country's most prestigious awards. Each year, Ellis Island Medal of Honor recipients are listed in the Congressional Record, honoring those who have made enduring contributions to our nation and to the world.
"I am honored to be included in such a distinguished group of medalists and I am inspired to even greater acts of humanitarianism. I believe that all individuals are capable of generosity and compassion and I hope to be a role model in my community to inspire others to share their good fortune", said Lana Todorovich.
The Ellis Island Medal of Honor ceremony on May 9th was full of pageantry, grandeur and emotion. Over 250 entertainers, including the Georgia Mass Choir, the Air Force Liberty Band and the American Belles participated in this spectacular event. Dancers in their native costumes added to the international flavor of the celebration. A gala dinner in the historic Great hall on Ellis Island followed the moving ceremony. As a grand finale, a majestic firework display illuminated the sky and America's symbol of freedom, the Statue of Liberty.
According to Nasser J. Kazeminy, Chairman of NECO, "NECO is about investing in the power of caring, whereas people from all cultures and walks of life stand together arm in arm to make a real difference in our world through shared compassion and philanthropy - not just for now, but to also inspire future generations who will continue to preserve and build upon the legacy that each of our cultures has contributed. With our Medalists, we will see America - at its best."
Lana Todorovich will join the honored ranks of past recipients, including six U.S. Presidents as well as Nobel laureates, entertainers, athletes, entrepreneurs, religious leaders and business executives. Some previous Medalists include: U.S. Supreme Court Chief Justice William Rehnquist; Generals Norman Schwarzkopf and Colin Powell; Sen. John McCain; Sen. Ben Nighthorse Campbell; Mayor Rudolph Giuliani; U.S. Attorney General Janet Reno; Lee Iacocca; Secretary of Labor Elaine L. Chao; Rosa Parks; Elie Wiesel; Frank Sinatra; Bob Hope; Opera diva Renee Fleming; Yogi Berra; Muhammad Ali; Arnold Palmer; Tom Brokaw; Walter Cronkite; Mike Wallace; Quincy Jones; Gloria Estefan, H.E. Sheikha Haya Rashed Al Khalifa, President - United Nations 61st Session General Assembly (International), just to name a few.
# # #