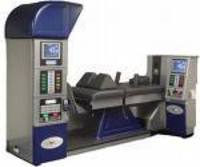 Nonsurgical spinal decompression with the DRX9000 lumbar decompression system and the DRXc cervical decompression system has become a huge success at our San Francisco Chiropractic Center
San Francisco, CA (PRWEB) May 22, 2009
Dr. Eben Davis, D.C. has been practicing chiropractic in the SF Financial District for over 17 years. He recently celebrated the opening of his brand new high-tech, 100% eco-friendly chiropractic clinic at the landmark Embarcadero center in downtown San Francisco. The name of the clinic is Executive Express Chiropractic.
"Nonsurgical spinal decompression with the DRX9000 lumbar decompression system and the DRXc cervical decompression system has become a huge success at our San Francisco Chiropractic Center," says Dr. Davis
Half of the disc herniation patients that Executive Express Chiropractic treats on a daily basis are coming for maintenance care. The DRX9000 fixed the problem and now happy patients want to make sure things stay in place.
Once thought untreatable with the exception of risky surgeries, disc herniations now have a secret weapon...the DRX9000.
Dr. Eben Davis and his team of San Francisco Chiropractors also incorporate Active Release Techniques (ART), exercise, and traditional chiropractic care into their herniated disc treatment protocols.
Dr. Davis does point out that nonsurgical decompression therapy with the DRX machines will not help every patient that he treats, and you first have to qualify for treatment, and not all disc patients are candidates.
But when you consider how safe decompression therapy is it's a chance worth taking...says Dr. Davis. "Sure you will be out some time and money if the DRX9000 fails to deliver...but at least you are still whole."
Nonsurgical spinal decompression with the DRX9000, Active Release Techniques (ART), Massage, and Disc Herniation Exercises, along with a Plant Centered Diet, just might be the combination to the disc herniation treatment code at Executive Express Chiropractic...at least that's what Dr. Davis' army of success stories will tell you, as does their San Francisco Chiropractor.
According to Dr. Davis there's only one way to find out if the DRX9000 or DRX9000c is for you...and that's to saddle-up and give it a shot.
Dr. Eben Davis writes daily on his award winning San Francisco Back and Wrist Pain Blog.
###