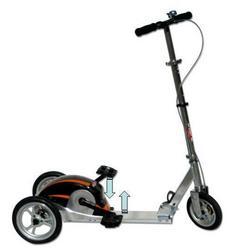 Atlanta, GA (PRWEB) May 28, 2009
The Pumgo Scooter is a new human-powered vehicle. It was introduced to the world for the first time at the New York International Toy Fair on February 15­-18, 2009 at Javits Convention Center. Many show attendees regarded Pumgo Scooter as the best new ride-on product at the show.
The Pumgo Scooter uses a unique and innovative pedal recovery and drive system that creates a smooth and comfortable ride as the rider pumps the pedals up and down, similar to a stationary stair-climber. Unlike seated human powered vehicles, the Pumgo Scooter uses a rider's full body weight to generate driving force, enabling larger children to fully participate in Pumgo riding.
From an engineering perspective, the Pumgo Scooter's simultaneous dual-pedal recovery system combined with its drive system is a true innovation in human powered vehicles. Other mobile products have tried to recreate the non-cycling, up-down motion similar to a stair-climber with limited practical results. Parallel crank shafts engage a pair of gears to produce the reciprocal pedal recovery while two chain wheels, similar to a bicycle, combine with four flywheels to form the drive system. Differentials in the two rear wheels allow for each to rotate at different speeds, facilitating smooth, safe turns. The end result is a natural, comfortable ride that is both fun and healthy. Since the pedals operate only in the 80-degree maximum output zone (rather than a full 360 degrees like cycling), the propulsion is extremely efficient with each "pump," producing the highest amount of forward thrust. Unlike seated human powered vehicles, the Pumgo Scooter uses a rider's full body weight to generate driving force for maximum output and more efficient exercise.
Dr. Batchelor, an Atlanta sports medicine doctor that specializes in the treatment of athletic injury, recently evaluated the Pumgo Scooter. Dr. Batchelor was impressed by the Pumgo Scooter's ability to work the body's core. He stated: "Riding the Pumgo simulates the feeling of being on a stair climber, skateboard, surfboard, and bicycle all at the same time. It also offers less weight-bearing impact than other exercises like running, which can be hard on joints. It's a great cardiovascular workout, with a faster more condensed workout time than running or biking. Pedaling on the Pumgo Scooter offers an efficient exercise with an up-down motion. The Pumgo Scooter offers much more enjoyment than the stationary stair-climber or kick scooter. While your time on an indoor stair stepping machine brings little enjoyment, your time outside, in the fresh air, on the Pumgo Scooter will bring loads of enjoyment and a great workout."
The Pumgo Scooter offers an enjoyable ride with all the benefits of a healthy exercise. Whether you are looking for fun, recreation, a sporting toy, transportation, or a fitness instrument, the Pumgo Scooter provides it all. It's the coolest gadget for whole family.
To find out more about the Pumgo Scooter, visit http://www.pumgo.com. Pumgo Scooter will be sold at http://www.ToysRUs.com very soon. If you are in L.A area, you can purchase Pumgo Scooter at Big 5 Sporting Goods headquarter store (2525 E. El Segundo Blvd., El Segundo, CA 90245, Tel. 310-297-7777).
info(at)pumgo.com
1-888-PUMGO-4-U
###