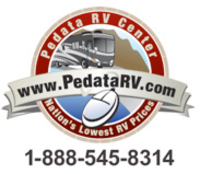 and what is left is the used RVs supply, and as that dwindles, prices go up.
(Vocus) May 30, 2009
At a very large motorhome and marine auction recently in Tucson Arizona, Gereard Pedata noticed some interesting statistics that he thinks indicates a shift occurring in the RV industry.
"Used RV inventory is going to dry up and it is going to create some demand, bringing manufacturers back in the picture," says Pedata.
In the last 12 months, new RV sales numbers hit record lows. Manufactures that haven't gone out of business have filed Chapter 11. And the lucky RV manufacturers that are not in bankruptcy have slowed production down to almost nothing.
"Consider an RV company like Monaco. They were selling thousands upon thousands of new units per year. Now they are selling zero. There are a few manufacturers like that as well as a lot of other manufacturers that are completely gone. So there aren't a whole lot of new RVs hitting the market right now, " says Pedata. "and what is left is the used RVs supply, and as that dwindles, prices go up."
Pedata says that people are holding on to their RVs right now and not selling. Trades are scarce which means a lot of the current sales are either to first time buyers or people who once owned an RV and are coming back. It used to be that every 3.2 years people would trade in for a new RV but that changed drastically in 2008 and so far in 2009. The demand for RVs definitely wasn't what it was, but it hasn't disappeared.
At auction, Pedata observed units needing a couple thousand dollars of "recon" (reconditioning) selling for high dollar amounts. Lower priced units were selling for as much as 120% of wholesale value. More expensive units that typically bring 70 – 90% of wholesale value were selling for full wholesale book value. "Where is the money coming from?"
Pedata speculates that dealers have been forced to carry more used units to satisfy demand created by the economic downturn. Customers have been buying because prices were at an all time low. But now new and used inventory is becoming scarce. Dealers are paying what they can to get units on their lots. "It shows that despite everything, there is still a demand for RVs and with the industry the way it is, demand is going to drive those retail prices higher than what they were before all this. Look at what was selling at auction. RVs bringing over book plus recon, plus auction and shipping fee's means retail on those units will be high."
How is that going to affect the industry in the second half of 2009? "It may give the remaining manufacturers an opportunity," says Pedata. "Demand is there."
For More Information:
For more information on Pedata RV Center or current trends in the RV industry contact Clint Ethington, General Manager, at clint(at)pedatarvcenter.com or by phone at: 1-888-545-8314 or 520-807-0900. Or visit Pedata RV Center online at http://www.pedatarvcenter.com.
###