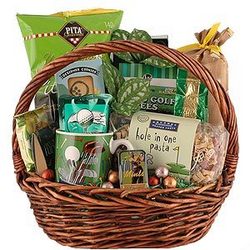 We all love enjoying BBQ'ing in the summer and consider taste testing new products as one of our primary responsibilities!
Toronto, Ontario (PRWEB) June 14, 2009
Grenville Station Gift Baskets is Canada's leading holiday, gourmet and baby gift basket company since 2000. While many gift basket companies skip Father's Day as a gift giving holiday, GrenvilleStation.com exceeds customer expectations by delivering year after year a unique and inexpensive selection of Father's Day gift baskets. Our gift designers work hard to ensure that regardless of the recipient, whether young or old, religious or secular, or happy or sad, receiving a GrenvilleStation.com gift basket puts a smile on any face!
"There are many considerations made when selecting products for our spring and summer designs. Golf and BBQ are always the best choice for ushering in our Father's Day designs, and not just any item will do. Only the finest gourmet grilling fare is acceptable to our staff," said Laurie Guitard, CEO of Grenville Station Inc. "We all love enjoying BBQ'ing in the summer and consider taste testing new products as one of our primary responsibilities!"
Even though Father's Day is a week away, Grenville Station designers are constantly updating our other gift categories, particularly our baby gift baskets. Designs such as our Twice as Nice Twin Baby gift basket offer the ability to our customers to send a gift that matches the extravagance of the occasion itself. It's important to always keep up with trends and source out the best gourmet foods and giftware to ensure that every recipient loves their gift and they are very appreciative to their sender.
GrenvilleStation.com has served the Canadian gift market for 8+ years. Regardless of whether one Father's Day golf gift basket in Toronto is needed or a corporate client requires 100 gifts on short notice shipped across Canada, Grenville Station has the experience and vision to help you send special gifts for special recipients. Customers who prefer to handle everything themselves can take comfort in the knowledge that their shopping experience at Grenville Station is taken very seriously. We constantly look for ways to improve our website and gift selection.
About Grenville Station Inc.
Founded in 2000 and based in Barrie, Ontario, Canada, GrenvilleStation.com Gift Baskets is the premier gift basket service in Canada offering secure online ordering since 2001. Grenville Station sends gifts they would like to receive themselves. From initial design conception to arrival at your recipient's door, every step in the process is carefully considered. Grenville Station Gift Baskets offers one of the best guarantees in Canada: 100% Recipient Satisfaction Guarantee!
For more information on gift baskets delivered in Canada, please visit our Gift Baskets website.
# # #