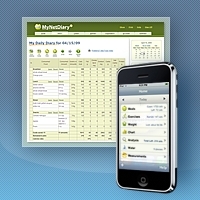 The MyNetDiary Calorie Counter and food diary are extremely useful tools that will help people build long-term dieting accountability
Cherry Hill, NJ (PRWEB) June 2, 2009
The new version of MyNetDiary's iPhone Calorie Counter links its members directly to the MyNetDiary Online Community, which features online support groups and teams, personal blogs, and forums supported by a registered dietitian.
"The MyNetDiary Calorie Counter and food diary are extremely useful tools that will help people build long-term dieting accountability," says Serguei Orechko, CEO of 4Technologies Corporation, "and now the additional access to our Online Community will help members stay motivated and committed, provide support and encouragement to stay on track, even while on the go."
Several multi-year weight-loss studies have shown that people who regularly participate in support groups and counseling meetings lose more weight and keep it off more successfully than those who try to do it alone.
With MyNetDiary's online, and now mobile, social networking site, members are never more than a click away from their support group, food diary, exercise journal or a 36-nutrient breakdown of a meal's nutritional information.
MyNetDiary puts its members in virtual touch with nutrition information for over 88,000 different foods through its free Calorie Counter iPhone application, which is also two to three times faster than any other calorie counter currently available for the iPhone.
The MyNetDiary Calorie Counter for the iPhone keeps its members' food diaries in perfect sync with their online food diary, so there's no retyping or note-jotting necessary. Enter the foods once and everything gets updated
The MyNetDiary Calorie Counter iPhone App is free for MyNetDiary subscribers and can be downloaded directly to an iPhone or iPod Touch via the built-in App Store application, or downloaded and installed via desktop iTunes software: http://phobos.apple.com/WebObjects/MZStore.woa/wa/viewSoftware?id=287529757&mt=8 . Free test drive mode is provided for evaluation.
For more information about MyNetDiary, the free iPhone Calorie Counter App, or to become a member, visit http://www.mynetdiary.com.
About MyNetDiary
Launched in 2007, MyNetDiary is a comprehensive, modern online diet service that helps people lose weight safely while following American Dietetic Association guidelines. A subscription to MyNetDiary offers a personalized analysis of your calorie and nutrient needs, assistance with target weight goals, online and mobile tracking for foods and exercise, and access to personalized progress charts.
###