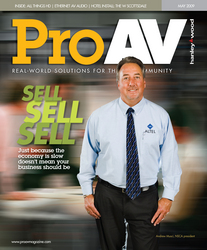 As the economy struggles, we hear that the education market is still ripe for great AV systems
Washington, D.C. (PRWEB) June 1, 2009
PRO AV, published by Hanley Wood LLC, today announced 15 winners of its second annual PRO AV Spotlight Awards program. The Spotlight Awards recognize the best professional audio/video installations designed for corporate, educational, and other non-residential applications.
"The second year of the Spotlight Awards surpassed the first," said Brad Grimes, Editor of PRO AV and PRO AV Online. "This time around, we established the awards to be able to recognize smaller projects as well as much larger, multimillion-dollar installations. While entries were still predominantly large-scale, judges were able pick out some gems that cost under $250,000. "
Entries in the 2009 PRO AV Spotlight Awards came from around the world, in vertical market categories including Corporate, Retail, Education, House of Worship, Government, Health Care, Entertainment/Arts, Museum, and Hospitality/Restaurant/Casino.
"As the economy struggles, we hear that the education market is still ripe for great AV systems," said Grimes. "This year's Spotlight Awards reflect the scope of all that work, to the point where we couldn't name just one top education project."
The 2009 PRO AV Spotlight Award winners are:
Best Corporate AV Project
ITC Holdings Headquarters & Control Room (Novi, Mich.)
AV Integrator: IGI, Commerce, Mich.
Architect/Designer: Gillett Associates, Farmington Hills, Mich.
Best Education AV Project (tie)
University of Nevada, Reno Mathewson-IGT Knowledge Center (Reno, Nev.)
AV Consultant: Wrightson, Johnson, Haddon & Williams, Dallas
AV Integrator: General Communications Inc., Draper, Utah
Architect/Designer: Hershenow + Klippenstein Architects, Reno, Nev.
Best Education AV Project (tie)
Temple University Fox School of Business, Alter Hall (Philadelphia)
AV Consultant: Acentech Inc., Cambridge, Mass.
AV Integrator: Total Video Products Inc., Mickleton, N.J.
Architect/Designer: Michael Graves and Associates, New York
Best Education AV Project (Under $250K)
Illinois College of Optometry, Third Floor Eye Labs (Chicago)
AV Integrator: United Visual Inc., Itasca, Ill.
Architect/Designer: Jensen & Halstead Ltd, Chicago
Best Entertainment/Arts AV Project
The Grammy Museum at L.A. Live (Los Angeles)
AV Integrator: Design and Production Inc., Lorton, Va.
Architect/Designer: Gallagher & Associates, San Francisco
Best Government AV Project (Federal)
Pentagon Press Briefing Room (Washington. D.C.)
AV Integrator: Audio Video Systems, Chantilly, Va.
AV Consultant: JGB Engineering LLC, Middleburg, Va.
Best Government AV Project (State & Local)
Fairfax County Courthouse (Fairfax, Va.)
AV Integrator: Professional Products Inc., Gaithersburg, Md.
Architect/Designer: Miller Beam & Paganelli Inc., Reston, Va.
Best Health Care AV Project
Baptist Country Walk MRI/CT Center (Miami)
AV Integrator: Southern Business Communications, Norcross, Ga.
Architect/Designer: Naya Associates, Miami
Best Hospitality/Restaurant/Casino AV Project
Mohegan Sun Casino of the Wind (Uncasville, Conn.)
AV Consultant: Veneklasen Associates, Santa Monica, Calif.
AV Integrator: HB Communications, North Haven, Conn.
AV Integrator: Marshall Industries, Salt Lake City
Architect/Designer: Wimberly Allison Tong & Goo, Irvine, Calif.
Best House of Worship AV Project
Eastlake Community Church (Chula Vista, Calif.)
AV Integrator: Southern California Sound Image Inc., Escondido, Calif.
Architect/Designer: Manuel Oncina Architects, La Jolla, Calif.
Best House of Worship AV Project (Under $250K)
Cathedral of Christ the Light (Oakland, Calif.)
AV Consultant: Shen Milsom & Wilke, San Francisco
AV Integrator: Pro Media Ultrasound, Hercules, Calif.
Architect/Designer: Skidmore Owings & Merrill, San Francisco
Architect/Designer: Kendall Heaton, Houston
Best Museum AV Project
California Academy of Sciences (San Francisco)
AV Consultant: Visual Acuity Limited, Brighton, U.K.
AV Integrator: Sky-Skan Inc., Nashua, N.H.
Architect/Designer: Renzo Piano Building Workshop, Genova, Italy
Architect/Designer: Thinc Design, New York
PRO AV Spotlight Judges' Award
The Comcast Experience (Philadelphia)
AV Integrator: Niles Creative Group, New York
Architect/Designer: Robert A. M. Stern, New York
PRO AV Spotlight Judges' Award
Harvard Decision Science Laboratory (Cambridge, Mass.)
AV Integrator: Premier Network Solutions, Cincinnati
Architect/Designer: Baker Design Group, Boston
PRO AV Spotlight Judges' Award
College Basketball Experience (Kansas City, Mo.)
AV Integrator: Design and Production Inc., Lorton, Va.
Architect/Designer: ESI Design, New York
"The PRO AV Spotlight Awards are the premiere showcase for the best in AV installations. All of the installations entered in this year's program were outstanding and choosing winners was no easy task for the judges," said Jon Yoffie, Associate Publisher of PRO AV. "These winning projects are truly the best of the best; they set the standard for what AV installations should bring to a project."
Winning projects will be featured in the July 2009 issue of PRO AV magazine and in specially produced slideshows on PRO AV's Web site, http://www.proavmagazine.com. They will also appear in Hanley Wood's ARCHITECT magazine, which is read by 60,000 practicing architects and design professionals working on non-residential projects.
About PRO AV
PRO AV is the fastest growing magazine in the commercial and residential audio/video industry. A BPA-audited publication, it's read by 20,000 professional AV integrators, contractors, consultants, resellers, and their end users. Its editorial coverage focuses on the day-to-day information needs of readers, including professional advice, how-to information, tips, strategies, and tactics for working with audio, video, IT, and emerging technologies.
About Hanley Wood
Hanley Wood, LLC, is the premier media and information company serving housing and construction. Through four operating divisions, the company produces award-winning magazines and Web sites, marquee trade shows and events, rich data and custom marketing solutions. The company also is North America's leading publisher of home plans. Hanley Wood Business Media (Washington, D.C.) publishes 30 award-winning residential and commercial construction titles, including BUILDER, REMODELING, CUSTOM HOME, CONCRETE CONSTRUCTION and residential architect. Hanley Wood Business Media also offers the construction industry's foremost collection of Web sites, including BUILDER, REMODELING, and ebuild, the comprehensive online guide to building products, as well as the largest collection of house plans online through ePlans.com and Dream Home Source.
Founded in 1976, Hanley Wood is one of the ten largest B-to-B media companies in the United States. Hanley Wood is owned by affiliates of JPMorgan Partners, which uses CCMP Capital Advisors to manage this investment.
###