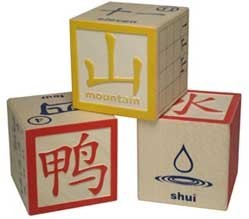 As we approach our company's 3rd anniversary, we are excited to present our highly-selective line of toys to our valuable customers
San Jose, CA (PRWEB) June 2, 2009
AsianParent.com today announced the launching of a unique line of high-quality educational toys designed for the most inquisitive children.
"As we approach our company's 3rd anniversary, we are excited to present our highly-selective line of toys to our valuable customers," said Jenny Parker, co-founder of AsianParent.com. "As with our children's Chinese books and DVDs, our toys are selected with the highest quality, product safety, and value in mind. Our toys are not only educational, they are also packed with fun for kids and the whole family. We hope our customers will like our toys as much as they have enjoy our books and DVDs."
All of AsianParent.com's toys are manufactured by US and European manufactures, including many name-brand toy manufactures such as: Melissa&Doug, LearningResources, MightyMind, MindWare, Small World Toys, Blue Orange, and more.
Click here to see our AsianParent Toys.
AsianParent.com was founded 3 years ago to provide high-quality children's Chinese books and DVDs to help parents share the Chinese language and culture with their children. In the past 3 years, the company has aggressively expanded their selection of books and DVDs by adding new products nearly every month, and has enjoyed great success. AsianParent.com will continue to focus on, improve, and grow their book and DVD product lines.
Visit us today at AsianParent.com to learn more about our products and to take advantage of our free-shipping offer.
About AsianParent.com
Headquartered in San Jose, California, AsianParent.com is dedicated to bringing quality reading material, multimedia, and educational products to parents who desire to share the Chinese language, culture, and heritage with their children. Products are geared towards children ages 0 to 12 years old. For more information about AsianParent.com, please visit AsianParent.com.
###