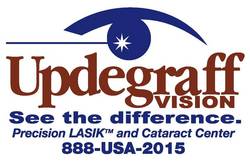 The podcast site is a tool for prospective patients to visit either before or after their visit to our practice
Saint Petersburg, FL (Vocus) June 3, 2009
In the world of ophthalmology there is so much excitement due to all of the advanced technology that is available to offer to patients today for vision correction surgery. A downside of having so much new technology, however, is that it has created confusion in the market about which vision correction option is "best". Updegraff Vision Precision LASIK and Cataract Center, located in the Tampa metro area, has launched a new blog and podcast site (http://www.LASIKandCataractExpert.com) that has been set up for the purposes of educating prospective patients about their practice and the vision correction options offered.
World renowned refractive surgeon, Dr. Stephen Updegraff, is best known for being a LASIK pioneer. However, he has performed lens implant and cataract surgery for more than a decade. Many patients visit Dr. Updegraff because they have been thinking about LASIK and find that LASIK isn't the best option for them. Most of these patients didn't know there were other vision correction surgery options available.
"The podcast site is a tool for prospective patients to visit either before or after their visit to our practice," says Dr. Updegraff. "There is often a lot of information to digest and many of our patients have enjoyed watching or listening to podcasts at home or on their iPhone or other mobile device." They can view videos such as What are my options if I am not a good candidate for LASIK? or Lens Implants and Modern Day Cataract Surgery. The site also provides podcasts regarding the development of LASIK as well as LASIK Warnings.
Accommodating lenses (CrystalensHD™) and multi-focal lenses (ReZoom™ and ReStor™) are offering the 50+ consumer the opportunity to experience a range of vision (near, intermediate, and distance) without spectacles or with minimal dependence on spectacles. It is truly an amazing and exciting time in the world of ophthalmology. Their podcast site helps patients "sort through" the details of the various surgical vision correction options available today.
Updegraff Vision Precision LASIK™ and Cataract Center has offices in Tampa and St. Petersburg, FL. They can be reached toll free at 888-USA(872)-2015.
###