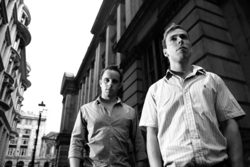 London, UK (PRWEB) June 4, 2009
Ditto Music, the digital music distribution specialist for unsigned acts, has agreed a deal with the massively-popular Spotify streaming service to make available music from its fast-growing roster.
US rockers Finch, who reached #3 on US billboard with their last album, were one of the first artists using Ditto's services to reach Spotify, for the independent release of their new EP "Finch."
Now, thanks to this ground-breaking deal, talented but struggling artists can benefit from the exposure previously reserved for globally-recognised names such as U2, Bob Marley and Coldplay.
Spotify listeners will gain access to the full Ditto catalogue, which includes such names as Lil Wayne, Sean Paul, My Vitriol, Fairport Convention and Samantha Fox - and even a previously unheard Tupac album. These are just a few of the names already using Ditto Music, which remarkably has already had seven UK top 40 singles, all from unsigned artists, thanks to its digital distribution of thousands of artists to hundreds of online stores worldwide.
"Spotify has dramatically changed the way users consume music and given artists a great new platform to get their music heard. There are over 1 million Spotify users; that is a massive audience for unsigned artists to benefit from," commented Lee Parsons of Ditto Music.
Unsigned artists looking to get their music on to Spotify and start earning royalties from their creativity should visit http://www.dittomusic.com, where they can now upload their music free of charge.
About Ditto Music:
Established in 2005, Ditto Music is the largest independent distributor of digital, mobile, ringtone and video content, supplying over 700 stores worldwide. In 2007, Ditto was responsible for the first-ever UK top 40 single by an unsigned artist (Koopa). Since then, Ditto's distribution model has been posing a serious threat to the major labels. Ditto Music's roster includes My Vitriol, Lil Wayne, Sean Paul, Tupac Shakur, Finch, Samantha Fox, Gurrumul and Fairport Convention.
Press and Business Contact
e: Lee Parsons - lee (at) dittomusic (dot) com
t. +44 (0)121 551 6624
w. dittomusic.com
About Spotify
Spotify is an innovative digital music service offering music fans instant access to a world of music. Spotify enables on-demand streaming of audio content and aims to be a better alternative to music piracy by offering a superior user experience, while monetising licensed content with both an ad-supported, free-to-the-user model and a premium, paid model. Spotify brings fans closer to the music and artists they love, and provides a marketplace for additional products such as live events, music downloads and more. For more information please contact the Spotify press office at
 press (at) spotify (dot) com or alternatively telephone +46 (0)709 79 22 07.
###