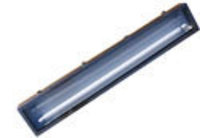 said Rob Bresnahan, President of Magnalight.com.
Dallas, TX (PRWEB) June 4, 2009
The stainless steel housing, neoprene gasket and high impact acrylic lens in the stainless steel hazardous location light are appropriate features for distillate plants, off shore drilling rigs, chemical preparation areas, wash down areas, etc. This Class 1 Division 2 light also meets US Coast Guard specifications, so it can be used on marine loading docks, ship yards and ocean going boats.
The HALSS-4-2L is a heavier duty, stainless steel housing alternative to our HALP-4-2L, which is a lighter duty hazardous location light with a fiberglass housing," said Rob Bresnahan, President of Magnalight.com. "Both are designed to accommodate corrosive environments , like saltwater, that would corrode our aluminum casting based explosion proof lights, like the EPL-48-2L. The lighter weight, lower cost HALP-48-2L model is ideal for lighter duty, structured environments, while our heavier duty HALSS-48-2L is designed for more rugged, vibratory off shore applications. Although every model is certified to UL 844 and UL 595 standards, in comparison, based on weight, the EPL-48-2L is a 65 pound aluminum casting based fixture, the HAL-48-2L is a 28 pound aluminum extrusion light, the HALP-48-2L is a 8 pound fiberglass housed light and the HALSS-48-2L is a 35 pound stainless steel housing light. The EPL series is Class 1 Division 1 and 2 and Class II Division 1 and 2, while the HAL models are Class 1 Division 2 only. While the EPL series is popular with on shore oil rigs, and paint spray booth lighting applications, the HAL series is used for general area lighting in hazardous location areas. The HALP and HALSS models are used for general area lighting in hazardous areas that are also considered corrosive due to the presence of saltwater or chemicals that degrade aluminum or steel," Rob added.
"For customers looking to move away from fluorescent tubes, either for energy savings, lamp longevity or mercury free implementations, we now offer 20 Watt LED bulbs as an optional upgrade for all of our explosion proof and hazardous location fluorescent lights. These LED tubes use the new Samsung AC LED's, which represent a much higher level of quality and output. Encapsulated in an aluminum housing and shrouded in a polycarbonate diffuser, we designed these LED bulbs to deliver on the 50,000 life hour promise. Changing bulbs in an explosion proof of hazardous location light fixture is considerably more time consuming that changing a bulb in a normal fluorescent fixture. As such, the time commitment and associated expense of lifts, man hours, etc. translate into real savings when compared to the cost of these LED's. Changing bulbs only a 1/3rd of the time as compared to fluorescent easily covers the higher cost of the LED bulbs. For LED'S certified buildings and companies penalized for exceeding threshold levels with energy costs, these LED fluorescent bulb replacements can reduce electricity costs by up to half, depending on the current bulb selection," concluded Rob.
Larson Electronics' Magnalight continues to add to their line of explosion proof and hazardous location lighting, ranging from high voltage hazardous location flood lighting to low voltage explosion proof inline drop lights. Serving customers in the petrochemical, oil field and manufacturing arena, Magnalight continues to develop a "one stop shop" offering that includes lighting, explosion extension cords and explosion proof ventilation blowers for explosion proof and hazardous location areas. You can learn more about Larson Electronics at magnalight.com or by contacting Magnalight at 1-800-369-6671 or via email at sales(at)magnalight.com.
###