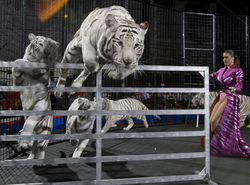 This is a huge day in the history of Ringling Bros. and Barnum & Bailey
Brooklyn, NY (PRWEB) June 4, 2009
Feld Entertainment, parent company of Ringling Bros. and Barnum & Bailey®, (http://www.Ringling.com/ConeyIsland) announced today that the landmark tent raising for The Coney Island Boom A Ring will take place (weather allowing) on Friday, June 5, at 10 a.m. at the corner of 21st Street and Surf Avenue.
"This is a huge day in the history of Ringling Bros. and Barnum & Bailey," said Stephen C. Yaros, Feld Entertainment's VP of Event Marketing and Sales, Northeast Region. "The arrival of The Coney Island Boom A Ring marks the first time ever that The Greatest Show On Earth® will be performing in Brooklyn -- the first time this show will be in New York City -- and the first time it will be performing under the big top. This is definitely an historic occasion!"
Traveling nearly 3,500 miles from Mobile Stadiums, Ltd. in Sheffield, England, to Coney Island, the state-of-the-art air-conditioned main tent is approximately 28,842 sq. ft. and will seat 2,400 patrons for each performance. The foyer tent, which will house the food court, is approximately 8,625 sq. ft. Both will be the most visible cornerstones of Feld Entertainment's major site renovation. Throughout the process, Feld has worked closely with lot owner Taconic Investment Partners, whose cooperation has been instrumental in bringing The Greatest Show On Earth to Coney Island.
Performances inside the big top will begin June 17 with a private preview show: Feld Entertainment is working with the Coney Island Development Corporation to get free tickets to children and families in Coney Island who have so graciously welcomed us to their neighborhood.
All these efforts will culminate in the historic opening night performance that will take place June 18 and include a special Salute To Coney Island.
For a complete schedule of performances and more information on The Coney Island Boom A Ring, including ticket sales, visit http://www.Ringling.com/ConeyIsland or call 1-800-745-3000. Group orders are available through Group Sales Box Office at 800-223-7565 or BestofBroadway.com. You can also follow The Coney Island Boom A Ring on Twitter @RBBBConeyIsland.
About The Coney Island Boom A Ring
The Greatest Show On Earth® hits the boardwalk this summer for the very first time in its 139-year history! Ringling Bros. and Barnum & Bailey presents The Coney Island Boom A Ring, an action-packed seaside circus spectacular in which the energy bursts out of the ring, into the audience and ricochets back to electrify the Ringling Bros.® performers. Circus-goers will enjoy an up-close and personal experience in a comfortable air-conditioned tent featuring beautiful white tigers, majestic Asian elephants and thrilling acrobats from around the world. The Coney Island Boom A Ring action bounces from one high-energy act to the next, featuring a daring crossbow demonstration that takes archery to new extremes, a globe of steel in which whizzing motorcyclists orbit at speeds of 65 miles an hour and a gravity-defying performance on the whirling Wheel of Steel. The circus is a cornerstone of the New York City summer and The Coney Island Boom A Ring is a one-of-a-kind experience that will engage all the senses while providing Children Of All Ages with a day at The Greatest Show On Earth they never imagined possible.
About Feld Entertainment, Inc.
Feld Entertainment is the worldwide leader in producing and presenting live entertainment experiences that lift the human spirit and create indelible memories, with 30 million people in attendance at its shows each year. Feld Entertainment's productions have appeared in more than 60 countries on six continents and include Ringling Bros. and Barnum & Bailey, Feld Motor Sports, Disney On Ice and Disney Live!. More information on Feld Entertainment is available at http://www.feldentertainment.com.
About Taconic Investment Partners
Taconic Investment Partners is a Manhattan based, fully-integrated real estate investment company. Since its founding in 1997, Taconic has acquired, developed and operated over 12 million square feet of office, residential and mixed-use properties primarily in the New York City metropolitan area. More information is available at http://www.taconicinvestments.com
About CIDC
The Coney Island Development Corporation was formed in September 2003 by the New York City Mayor, the City Council, and the Brooklyn Borough President. The 13-member Board of the CIDC includes City officials, local and Brooklyn-wide business and community leaders. It is charged with spearheading and implementing a comprehensive planning process for Coney Island and creating a coordinated economic development strategy for the area. For information about the Coney Island redevelopment plan and the Coney Island Development Corporation, please visit http://www.thecidc.org.
###