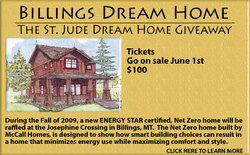 We're truly excited about this opportunity to combine a wonderful cause such as the St. Jude Dream Home program with our efforts to spread the word about how attainable and affordable energy-efficient homes are today
Portland, OR (PRWEB) June 4, 2009
The multiple partners involved describe it as the ultimate win-win: a home in Billings, Montana, will be built, donated and raffled off as a fundraiser for St. Jude Children's Hospital, and it will also be among the nation's most energy-efficient homes ever built - the first Net Zero St. Jude Dream Home, and a harbinger of a new generation of smaller, more energy-efficient Dream Homes.
And for the price of a $100 ticket, one person will own a home equipped with the latest energy-efficiency elements in construction, systems and appliances - a home that will actually generate as much energy as it uses, delivering on the "net zero" concept of no overall energy consumption and eliminating utility bills for the homeowner.
The project is possible through a unique and innovative partnership of multiple organizations, including St. Jude Children's Hospital, homebuilder McCall Development, the Northwest Energy Efficiency Alliance (NEEA) Northwest ENERGY STAR Homes program, the Department of Energy's "Building America" energy-efficiency program, Washington State University's building science program and local sponsors such as Billings media outlets KTVQ television and KGHL radio.
"We're truly excited about this opportunity to combine a wonderful cause such as the St. Jude Dream Home program with our efforts to spread the word about how attainable and affordable energy-efficient homes are today," said Anne Brink, market manager new residential construction for NEEA.
The Dream Home is being built in the mixed-price Josephine Crossing development, which features 100% ENERGY STAR-certified homes. "St. Jude's had contacted us about participating in their Dream Home program, and we were intrigued," said Greg McCall of McCall Development. "Coincidentally, we'd been in discussions with Northwest ENERGY STAR regarding marketing green building within our area. We realized there was a synergy between the goals of each program. As economic barriers were hitting the building industry hard, we realized that there was an opportunity to 'brand' the next-generation Dream Home. It struck me right away that maybe we could build the first Net Zero home in the state of Montana, and then give it away for St. Jude."
St. Jude's growing Dream Home program, which started in Shreveport, Louisiana, in 1991, has built and raffled off more than 200 homes over its history, including 30 homes in 2008, and raised $156 million for research into children's medical issues. Builders, vendors and sponsors donate labor, materials and cash to produce a new home at no cost to St. Jude. The charity then sells raffle tickets to the public, giving the home away to the winner.
"On the construction side, we rely heavily on suppliers and subcontractors to donate their services and materials," said Tara Moyer, Dream Home marketing manager for St. Jude. "Seeing that many people and businesses willing to come together to make these projects happen is humbling and incredibly gratifying."
The Billings project stands out as the only Net Zero home St. Jude's has been involved with - and, actually, one of only a few true Net Zero homes built anywhere. The coordinated effort to achieve that level of energy efficiency involved several players - foremost among them the DOE's Building America program, which in the Pacific Northwest is coordinated through Washington State University.
The goal of the Building America program is to encourage and aid builders in achieving a higher level of energy efficiency in new construction. The program offers grants for outreach and education efforts such as builder training. In this case, McCall Development received extensive input from WSU to ensure the project's materials, construction methods, systems design, insulation and other factors would maximize energy efficiency and ensure net-zero levels of consumption.
Among the innovations included in the Billings Dream Home:

The floor plan of the 1,920-square-foot home is designed to take advantage of natural lighting, to reduce the need for electric lights inside the house. The home is also positioned on its lot to make optimum use of the location's existing light.
The 3-bedroom, 2.5-bath home uses solar panels, a ductless heat pump, an energy-recovery ventilator, double-pane low-E windows, R30 wall insulation and ENERGY STAR lighting and appliances.
Bidirectional metering will monitor both energy production and energy use, allowing an accurate accounting of the home's net energy use.
"Forty to fifty percent of Dream Homes are on some level energy-efficient," said Russ Laney, associate director of construction for St. Jude. "The Billings Net Zero Dream Home is in a class by itself - it's not on the cutting edge, it IS the cutting edge. This is a window on the future for both homebuilding and the Dream Home program."
The home is being built as part of a larger 100% ENERGY STAR development, rather than a separate custom-build. McCall's Josephine Crossing development offers homes from $150,000 to $700,000 all in one neighborhood; the St. Jude Dream Home's retail value is approximately $400,000, The development is specifically designed to reverse the trend of new developments being centered around automobile traffic. Josephine Crossing features narrower streets with traffic-calming features, wide sidewalks set back from the street, garages in the rear of homes, and pocket parks rather than greenbelts.
Construction on the Billings St. Jude Dream Home began in January, and is scheduled to finish in August. Raffle tickets, priced at $100, will go on sale in Billings at eight Cellular Plus locations as well as at McCall Homes Design Studio. After a Sneak Peek event for sponsors and vendors August 13 and a public Grand Opening August 15, the giveaway will be televised live on KTVQ Sunday, September 27. The organizers anticipate more than 5,000 people will tour the home through a series of open houses.
The program's goal is to sell 6,000 tickets, generating $600,000 for St. Jude. Other prizes that have been donated give ticket buyers a 1-in-500 chance of winning a prize valued at $1,000 or more. Including building subcontractors, sponsors, media outlets and others, more than 60 local companies have donated time, materials or services to the effort.
"This program is not just great for the community and for medical research, but also for promoting a higher level of building efficiency," said Dave Hetherington, program manager for Northwest ENERGY STAR Homes. "It's an exciting story - it's a great giveaway for a great cause, and we're building awareness around energy use and the ability to build to a net-zero energy use level."
###