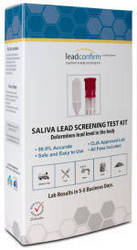 This test will be available to the professional market and through doctors' offices for individuals who would like to have their levels checked
San Diego, CA (Vocus) June 4, 2009
LeadConfirm Professional, the first and only non-invasive and oral-based lead testing product in the market today, is now available to more doctors and health care professionals in Detroit, Michigan through a wider distribution base.
Confirm BioSciences Inc., the company behind the development of LeadConfirm Professional, reports that the lead testing product can now be purchased conveniently from various reputable online stores such as Amazon.com and TestCountry.com. All that a buyer needs to do is to visit the website, place the order, and then wait for the product to be delivered to them within a few days.
LeadConfirm Professional is a testing product that checks if the body is affected by lead contamination and by how much. The testing is done using saliva collected through an FDA-approved device. The saliva is then placed in vials and sent to the Confirm BioSciences laboratories in a prepaid envelope included in the testing kit.
To test for lead contamination in the body using saliva samples, Confirm BioSciences utilizes advanced technology in Liquid Chromatography (HPLC) with Mass Spectrometry X2 (LC/MS/MS). The results are available within five to six business days. The patient can get these results online or through telephone.
Representatives from Confirm BioSciences stated that there is a huge need for the public to have better products for testing lead among children in Michigan. This is what prompted the company to make LeadConfirm Professional open to a broader distribution base.
Zeynep Ilgaz, president and CEO of Confirm BioSciences, said: "There is a tremendous need for this product, as lead poisoning is a major issue in our society."
"This test will be available to the professional market and through doctors' offices for individuals who would like to have their levels checked," Ms. Ilgaz added. Ms. Ilgaz is a mother of two.
Statistics from the US Occupational Safety and Health Administration back up this need for more accessible lead testing products such as LeadConfirm Professional. In the United States alone, there are more than a million workers in at least 100 different jobs who are exposed to lead on a daily basis. These include people employed in manufacturing plants making ceramic tiles and batteries. Lead exposure also affects people working as mechanics, painters, welders and other related jobs.
People in manufacturing and related service jobs are not the only ones who are likely candidates for high levels of lead exposure It is possible for children staying at home to have industrial levels of lead in the body. Children can be exposed to lead from urban dust, from food and from breathing lead particles in the air.
These sources include:

Lead-based paint that is deteriorated or poorly maintained.
Contaminated soil around former smelters located at or near residential areas that have released lead into the air during operations and been deposited on the soil;
Lead dust that has been washed into the soil from houses during rainfall;
Food and liquids stored in lead crystal or lead-glazed pottery;
Water that runs in old lead plumbing; and
Automotive emissions from leaded gasoline, in use before 1986.
In the City of Detroit, 6% of all children six years of age and younger tested in 2004 were identified to have lead poisoning (Detroit Department of Health and Wellness Promotion 2005a). In response to this, the City of Detroit and the State of Michigan have committed to the goal of reducing the incidence rate of new lead poisoned children (age 6 and under) to 3.2% or less by 2010. Exposure to lead has serious neurological and behavioral effects on children
It is the primary source of lead poisoning in children today because it is still present in older cities like Detroit where approximately 56% of all housing stock was built prior to 1950 (Detroit Department of Health and Wellness Promotion 2005a). As it is easily found inside and outside of houses, apartments, and public housing in the city, young children are at greater risk to swallow paint chips and inhale lead dust. Children less than three years of age are even more susceptible to being exposed to lead because they crawl and play on floors where paint chips and dust are deposited, ingesting them by the oral route. Given that lead-based paint was used outdoors as well as indoors, lead dust can also wash off to the soil surrounding a home and poison a child during play.
Results from these analyzes identified six communities that had a 23% higher rate of lead poisoning among children than the rest of the City; furthermore, these communities accounted for 30% of all cases of lead poisoning in 2004 (Detroit Department of Health and Wellness Promotion 2005b).
High Risk Areas for Lead Poisoning by County Level, Michigan 2006

Belle Isle,
Chene,
Kettering-Butzel
Rosa Parks,
St. Jean
Tireman
Wayne County
Data analyzed by the Centers for Disease Control and Prevention (CDC).
Based on 2000 US Census data
Lead exposure is particularly dangerous for children. It can result in anemia, learning disabilities, speech delays, attention deficit disorders, mental retardation, hearing loss, and different forms of renal and neurological damage.
Typically, lead testing products require blood samples from the patient. This is often difficult if the patient to be tested is a child. In such cases, it is more effective to use saliva samples instead of blood samples. Researchers from the Department of Health in North Carolina proved that saliva tests are just as conclusive as blood tests in determining lead levels in a person's body.
Confirm BioSciences is a respected provider of diagnostic drugs and testing kits, including LeadConfirm Professional. More information on Confirm BioSciences is available at http://www.confirmbiosciences.com
Confirm BioSciences Inc.
###