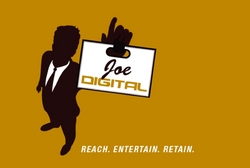 America's Funniest Home Videos
Los Angeles (PRWEB) June 8, 2009
Television and online video production veterans, Peter J. Schankowitz and Zach Jordan have launched Joe Digital, Inc., a one-stop production company offering brand storytelling, production and strategic distribution to brands covering virtually every vertical and business sector. The company, based in Los Angeles, offers brands compelling content, HD production and customized distribution solutions that help companies effectively engage the consumer in the modern, digital age.
"We believe that the fragmented digital landscape presents brands with an unprecedented opportunity to reach, entertain, and retain their target audience. The Joe Digital mission is to help brands tell an engaging, authentic story and to get that story to the audience passion centers that are most apt to engage with that brand. The key? We make great content and make sure that your story gets to your target audience, where they exist and in a form that delivers something of genuine personal value----in other words, on their terms."
Schankowitz was the CEO and creative force behind the US operations for VideoJug.com, the largest and very first comprehensive online "encyclopedia of life". During his tenure, the company produced over 15,000 pieces of HD video content that covered virtually every vertical, from pets to parenting and health to hobbies. Prior to launching Joe Digital and running VideoJug, Schankowitz was a well regarded creative executive and Executive Producer having topped some of the nation's most well-known production studios including Vin Di Bona Prods. ("America's Funniest Home Videos") and Film Roman, Inc. ("The Simpsons", "King of the Hill", "Tripping the Rift"). He has created and produced for nearly all of the major networks and cable outlets.
Jordan, a new media veteran who has produced countless online series and worked on feature film projects was most recently a founding producer and the Vice President of Business Development at VideoJug. It was at VideoJug where he and Schankowitz, lead the way with respect to all creative and business efforts, including the consummation of an International production and distribution deal with MSN Video that included the production of hundreds of short form, online videos that were utilized and broadcast in association with MSN's "Live Earth" concerts in 2007.
"Brands need to behave like publishers and provide people with a relevant and compelling narrative in order to get their message to stand out in the growing sea of content. We saw this as a tremendous opportunity to take the years of production experience and marry it with emerging social media technologies and interactive story elements that empower brands to engage people on any platform." said Jordan.
The company, most recently, was retained by Friends of the Earth to create and develop the first phase of a video and distribution plan to celebrate the environmental organization's 40th anniversary and to lay the ground work for its future digital marketing efforts. Joe Digital is currently working with a diverse set of client brands including several "green related" businesses, major philanthropic foundations, and a number of personal brands.
"The definition of 'brand' has evolved so far beyond the type of soap you want to use. In the digital era, a brand is any entity or, for that matter, any person, that has a story to tell, that needs to earn the attention and trust of the consumer, and that wants to stand out in the increasingly atomized, multi-platform world where we all exist, live and engage.", said Schankowitz.
"We formed Joe Digital to help brands understand the new maxims of storytelling necessary to effectively engage audiences in today's market. We operate off of a new equation that we think is the key to brand awareness, loyalty and conversion: Great Content + Strategic Distribution = Loyal Participants. It's our job to put that equation to work and act as a 24/7 extension of our clients either directly or via their existing agency of record.", added Jordan.
For additional information about Joe Digital's service offerings, complete biographical information, examples of clients and work as well as the company's musings about branding, digital content and the future of brand story telling, visit the Joe Digital website, http://www.joedigital.com
###