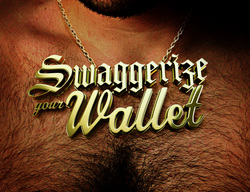 While we realize times are tough, summer is all about good times and we wanted to give our loyal fans the opportunity to win some extra cash to fund their fun - whether that means grilling enough burgers to feed the entire neighborhood, upgrading to behind home-plate seats at their favorite team's baseball game or spending the night out on the town
Cincinnati (PRWEB) June 4, 2009
Old Spice® today announced the launch of its "Swaggerize Your Wallet" competition, a unique series of challenges that will line some lucky consumers' pockets with extra spending money in the coming months - with Old Spice providing an opportunity to win thousands of dollars to those willing to go the extra mile to demonstrate their Swagger style. In the spirit of Old Spice, all challenges rely heavily on a sense of humor and call for the creative use of the brand's popular Swagger® logo. Starting today, consumers can visit http://www.OldSpice.com to review the complete rules of the competition, assess the first set of "Swaggerize" challenges and learn how to upload video/photo competition entries. New challenges will be posted to the Old Spice Web site on a weekly basis with the contest ending August 13, 2009. There's no purchase necessary to participate.
"While we realize times are tough, summer is all about good times and we wanted to give our loyal fans the opportunity to win some extra cash to fund their fun - whether that means grilling enough burgers to feed the entire neighborhood, upgrading to behind home-plate seats at their favorite team's baseball game or spending the night out on the town," said James Moorhead, Old Spice Brand Manager. "After all, nothing gives a person more Swagger than a fat wallet, and that's what the 'Swaggerize Your Wallet' competition is all about. This summer, people can bank on Swagger as the scent that makes a difference!"
The first set of "Swaggerize Your Wallet" challenges include:

Make a Cake in the Shape of the Swagger Logo: Submit a video of a Swagger logo-shaped cake (the bigger, the better) being eaten by one or more people. No longer than five minutes. Judges will reward their favorite entry with $500.
Throw Swagger Product Like a Fastball: Submit a video of someone throwing one of the Old Spice Swagger family of products at least 65 mph as clocked by a radar gun. The faster, the better. No longer than three minutes. Judges will reward their favorite entry with $1,500.
Hold a Swagger Sign at a Televised Game: Submit a personal photo of a sports fan who incorporates the words "Old Spice Swagger" into a homemade sign held at a televised sporting event. Event must be specified. Judges will reward their favorite entry with $2,500.
Tony Stewart Look-alike Contest: Since Old Spice is the official deodorant of NASCAR and sponsor of Stewart's No. 14 car, why not reward someone for looking like him? Submit a personal photo of a Tony Stewart look-alike, male or female, holding one of the Old Spice Swagger family of products. Judges will reward their favorite entry with $500.
Consumers will be able to begin submitting entries to Old Spice on Monday, June 15, with the deadline for the first set of challenge entries set for Sunday, June 28. Additional challenges will be announced weekly at http://www.OldSpice.com and will feature varying levels of difficulty and prize money. Winners will be selected by a panel of Old Spice representatives, with submissions featured throughout the competition at http://www.OldSpice.com.
About Old Spice
Procter & Gamble's Old Spice is the quintessential men's grooming brand. With more than 70 years as an American icon, Old Spice is the authority on the male grooming experience and has leveraged this heritage to become the No.1 selling anti-perspirant/deodorant stick and body wash brand with guys of all ages. Old Spice brings authenticity, performance and confidence to male grooming and offers a wide product portfolio for today's man, including anti-perspirants, deodorants, body washes, body sprays, after shaves and colognes. For more information, go to http://www.oldspice.com.
About Procter & Gamble (NYSE:PG)
Three billion times a day, P&G brands touch the lives of people around the world. The company has one of the strongest portfolios of trusted, quality, leadership brands, including Pampers®, Tide®, Ariel®, Always®, Whisper®, Pantene®, Mach3®, Bounty®, Dawn®, Pringles®, Folgers®, Charmin®, Downy®, Lenor®, Iams®, Crest®, Oral-B®, Actonel®, Duracell®, Olay®, Head & Shoulders®, Wella, Gillette®, and Braun. The P&G community consists of over 135,000 employees working in over 80 countries worldwide. Please visit http://www.pg.com for the latest news and in-depth information about P&G and its brands.
###