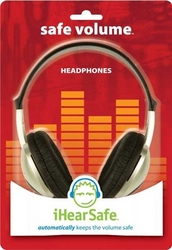 Milford, NH (PRWEB) June 6, 2009
iHearSafe today announced a voluntary recall of the following consumer products. Consumers should stop using recalled products immediately and await instructions from iHearSafe.
Name of products: Safe Volume™ Headphones, EarClips, and EarBuds
Units: 2,700
Manufacturer: iHearSafe
Hazard: Potential Lead Hazard
Incidents/Injuries: iHearSafe has no knowledge of any injuries or health concerns at this time
Description: iHearSafe Headphones, EarClips, and EarBuds limit headphone volume to 85 decibels.
Sold at: iHearSafe, familysafemedia, x-tremegeek (website and catalog), and The Store at Komando website
Manufactured in: China
Remedy: Consumers should stop using the headphones, earbuds, and earclips immediately and await a letter from iHearSafe that will include instructions on returning the product(s). iHearSafe will issue customers a full refund of the original purchase price and shipping charges. Consumer Contact: For additional information, call 1-877-443-2772. Information is provided via the toll free number 24 hours a day. You may also reach a live operator Monday thru Friday between 8 a.m. and 5 p.m. EST., or you can visit the company's website for more information.
###